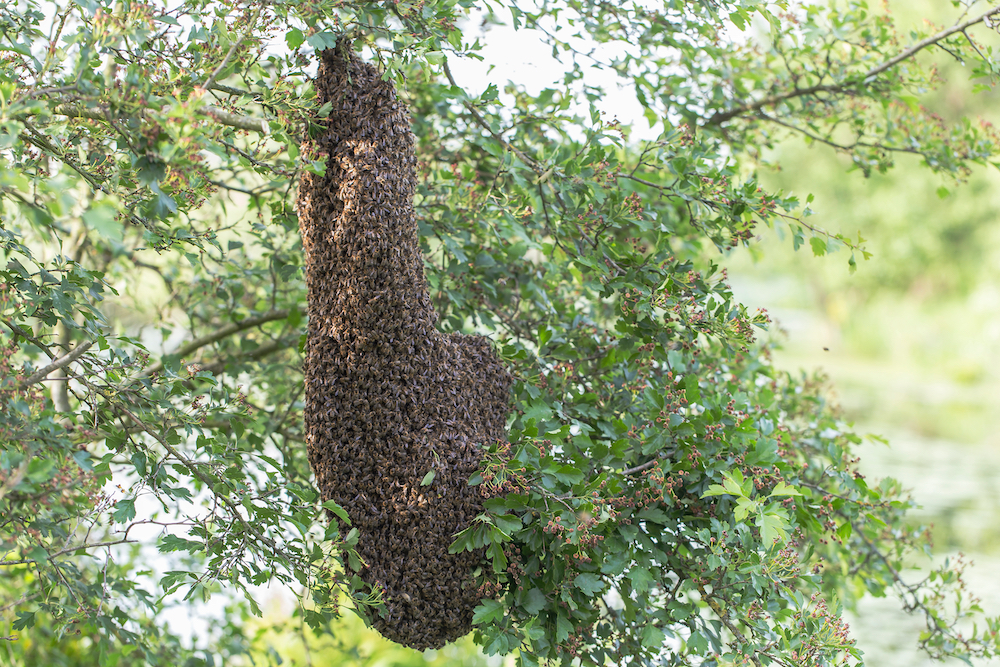 Casa de Oro-Mount Helix is home to 20,000 residents in East San Diego County, whose backdrop is the beautiful Mount Helix, and where the steeple of the Santa Sophia Church is visible from afar. The natural beauty of Mount Helix also creates an ideal place for small critters and pollinators to make their homes. Mt. Helix relies on the expertise and professionalism of D-Tek Bee Removal Services. Rated the #1 bee removal and bee removal repair service in Casa de Oro-Mount Helix, D-Tek's bee technicians are the most knowledgeable and experienced experts in the field, and we have been serving the area for more than 17 years.
If you have noticed increasing bee activity or suspect a hive may be on your property or in an area that may pose a danger to people and pets, contact D-Tek today for the most knowledgeable and experienced bee technicians. We understand when bees are a concern, there is an urgency to address the issue, and D-Tek can typically have a qualified bee technician to your property within 24 hours.
Encountering a bee hive on a playground, a fence, or in a tree can be scary. However, the concern must be addressed immediately when you suspect a hive is inside your wall or attic. D-Tek wants Mount Helix residents and business owners to be able to go about their day and evenings without being afraid or putting themselves at risk of being stung by bees protecting their hive and queen.
D-Tek offers full-service bee removal, unlike other pest control companies. Our experts help Mount Helix residents from their initial call until the bee concern is addressed and handled with expertise. The unmatched level of dedication of the bee technicians ensures bees do not return to the same spot. When live bees are removed, it is done with care so they can be removed and rehomed safely. D-Tek humanely removes live bees and works with established apiaries in San Diego County to find them a new location.
Bee Removal Services by D-Tek for Casa de Oro-Mount Helix:
Live Bee Removal
Hives and Honeycomb Removal
Bee Proofing
Relocating
Bee Removal Repair Work - Guaranteed!
When you contact D-Tek Live Bee Removal to handle your Casa de Oro-Mount Helix bee infestation, you get more than just a removal company. You get experienced professionals with knowledge about the local bees. Only D-Tek can guarantee Mount Helix customers that the entire hive and all remnants of the honeycomb are entirely removed. Bees will return to the same spot if anything is left behind, and residual honeycomb will rot and cause other problems with pests!
One call to D-Tek and an expert is dispatched to your property, and you get instant peace of mind. Our expert bee technicians will do a free inspection and quote. We pride ourselves on honest assessments of what needs to be done to make your bee problem go away.
If you are experiencing a hive, increased bee activity, or a swarm in Mount Helix, contact D-Tek Bee Removal Services today at 760-224-3040.
Mount Helix's Best Live Bee Removal
D-Tek has an excellent reputation with beekeepers in San Diego County for working to save and relocate the bees in the area. Keeping bees local is the best thing for the environment and minimizes disruption to the organic pollination process, which is critical in California. We are the #1 Humane Live Bee Removal Company in Mount Helix.
We prioritize your bee problem and get a professional bee technician out quickly to provide the best solutions for your unique situation.
Get help with your beehive or bee swarm removal!
Call Today 760-224-3040 Or 951-265-8292!
Bee Repair Experts Casa de Oro-Mount Helix
D-Tek offers more than 17 years of experience serving residents and businesses in Casa de Oro-Mount Helix. Our experts are familiar with the area and the local bee species. In some cases, a hive may be removed easily. In other cases, only the best will do the job thoroughly and correctly when a hive is well-established in a wall, attic, or another part of your property. Mount Helix customers use D-Tek for their bee problems because they know keeping people safe is the highest priority and that it will be done humanely when live bees are removed.
Best Casa de Oro-Mount Helix Bee Removal and Repair Services
One thing that makes D-Tek stand out above other pest control services is that we specialize in bees! Bees are not just another pest, and it is not worth the risk of treating them as such. Pest control companies may use toxic chemicals to kill the bees, which can be dangerous for people, pets, and pollination. Casa de Oro-Mount Helix customers can rest knowing our bee technicians prioritize your safety while doing their best to keep the bees alive and rehome them.
For a free, professional inspection and courteous bee removal service in Mount Helix, call D-Tek Live Bee Removal today at 760-224-3040.