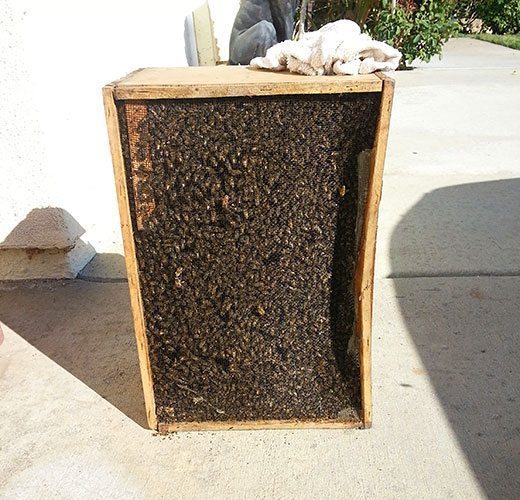 Do you have a large bee hive or swarm on your Coronado property? Do you suspect that honey bees have constructed their hive inside the walls of your home? Are you concerned that a honey bee swarm will put your family in danger? 
Bee removal can be a difficult and dangerous job. Instead of attempting to handle your honey bee situation on your own, you need to call in the professionals at D-Tek Live Bee Removal. As a local leader in safe and humane bee removal services, we can take care of your bee problem quickly and affordably. And with our live bee removal techniques, you can feel good about playing a role in the conservation of our declining honey bee populations. 
Coronado Live Bee Removal
The resort city of Coronado continually receives accolades for the best beaches in San Diego County. With the gentle surf and sandy beaches, along with a rich California history and a crowded calendar of events, Coronado brings visitors from all over the world. Coronado is a tied island close to downtown San Diego and just north of the Mexican border, meaning access is limited, and many use the recognizable Coronado Bay Bridge. It is safe to say that Coronado does not have a "slow" season, as the island is filled with beautiful homes with year-round residents. Hotels, resorts, and homes are nestled in an ideal location that is a draw for bees and pollinators. If you have a hive that needs to be relocated humanely, contact DTek Bee Removal for exceptional service.
When Coronado residents need help ridding their homes of bee infestations, their first call is to D-Tek Live Bee Removal. Why? 
We specialize in live bee removal, a process that does not use any harmful chemicals or pesticides to exterminate honey bees. Instead, we use a unique vacuum system that carefully removes the bees from the area alive and well. The bees are then rehomed to a local apiary where they will continue to live and pollinate under the care of a local San Diego County area beekeeper. When you hire us to perform your bee removal, you can feel good knowing that you've done your part to protect honey bees. 
At D-Tek Live Bee Removal, we do the job right the first time. That's why we take steps to ensure that you won't have a bee infestation in the same area again in the future. Our technicians will remove all of the honey and honeycomb to eliminate the odors that can attract other bees to the location. Then, our team will fill in any cracks, holes and seams that would provide easy access for bees using a non-toxic sealant. 
All of our Coronado live bee removal services include: 
Live, humane removal of all honeybees

 

Complete removal of all honeycomb and beehive
Rehoming of the honeybees to a local apiary

 

Professional bee repairs to roof, stucco and drywall
Guaranteed bee repair and bee proofing services

 
Bee Removal Repairs Coronado
When honey bees decide to build their nest in your home, they will often choose a hard-to-reach location like your attic, behind your walls or in the eaves of your roof. While it might be frustrating for you, there is no need to worry when you hire D-Tek Live Bee Removal. Our team has over 15 years of experience in bee removal repairs, so you can rest easy knowing that your home will be returned to a safe and attractive condition. We can replace any drywall, stucco or roofing that must be removed to access your bees, and we'll even guarantee our work against leaks and defects so you can have the peace of mind you need. 
Get help with your beehive or bee swarm removal!
Call Today 760-224-3040 Or 951-265-8292!
Coronado Bee Proofing Services
In addition to bee proofing the immediate area after we complete a live bee removal service, our experts can bee proof your entire house. A qualified technician will inspect your home from top to bottom to locate areas that provide easy access to honey bees. Vents, cracks, holes, seams and other vulnerable spots will be completely sealed with a special product that keeps bees and other insects out. When you hire D-Tek Live Bee Removal, you can feel confident that your home is safe from a future bee infestation.
D-Tek Live Bee Removal Service Coronado
If you live in Coronado or the surrounding San Diego area and find yourself with a bee problem, do not wait to contact the bee removal experts at D-Tek Live Bee Removal. Our team has years of experience using safe and humane removal techniques that protect honey bees while still giving you the results you desire. Contact our team today at 760-224-3040 to schedule your free inspection and estimate. We can usually dispatch a technician to your property the same day!