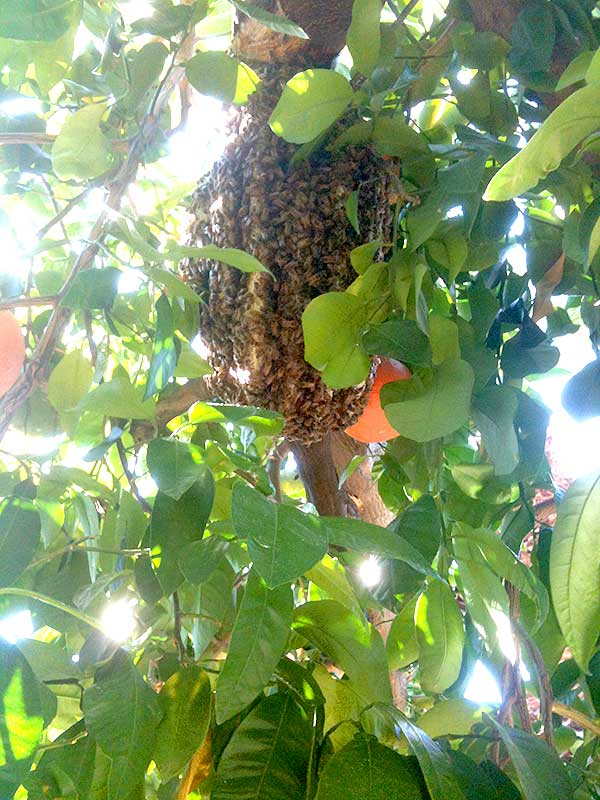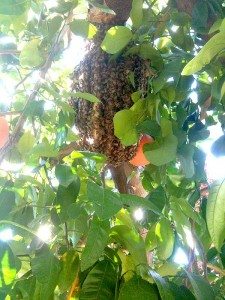 Scripps Ranch is home to Miramar Reservoir, where residents and visitors enjoy the recreation of being on the water. Those who live in Scripps Ranch enjoy top-rated schools and a peaceful lifestyle. As spring and summer approach, bees are looking for new homes, and the weather and natural habitats in Scripps Ranch can be a popular area for bee activity. If you have encountered increased bee activity or believe there is a hive that poses a risk to people, please call D-Tek Bee Removal Company. D-Tek has been helping families and businesses in Scripps Ranch for over a decade with bee concerns.
When residents of Scripps Ranch need professional, live bee removal, they rely on the trusted experts at D-Tek Live Bee Removal. For over 15 years, we have been the leading provider of safe and humane bee removal, bee proofing and bee removal repairs for Scripps Ranch and the surrounding San Diego area communities. 
Live bee removal services are the safe and humane alternative to extermination. Honey bee populations are in decline and should be protected. Their pollination efforts contribute so much to our agricultural system and are responsible for much of the food that we see on our dinner plates. For this reason alone, live bee removal is the better way to rid your Scripps Ranch home or business of an unwanted bee hive or swarm. 
D-Tek Live Bee Removal leads our competition by providing superior service at affordable rates. With our transparent pricing and free inspections, you can feel confident that you are getting the services you need at a fair price, no surprises. If you need Scripps Ranch bee removal or bee proofing services, contact us today at 760-224-3040 to set up your free inspection. One of our technicians will arrive at your property within 24 hours to get to work. 
Live Bee Removal Company Scripps Ranch
When bees decide to build a hive in your Scripps Ranch home or business, they can be very destructive and cause a great deal of damage to your structure. Not only can that lead to dangerous conditions for your family, it can result in expensive home repairs. Plus, bee infestations in high traffic areas can lead to bee attacks that could put people at risk. 
During a live bee removal service, our technician will use a special vacuum system to safely and gently remove the honey bees from your property. After the removal, they will be transported and rehomed to our local apiary where the bees will continue to thrive and pollinate crops and orchards. By choosing live bee removal, you are doing your part to protect honey bees and put food on the plates of your neighbors. 
Get help with your beehive or bee swarm removal!
Call Today 760-224-3040 Or 951-265-8292!
Scripps Ranch Bee Removal Repairs
Bees often choose hard-to-reach locations to build their hives. Large nests can cause a great deal of damage to the structure of your home and lead to unsafe conditions. Plus, during a bee removal service, our technicians may need to remove pieces of your structure to access the bees and the honeycomb, including drywall, stucco, roofing or shingles.
But there is no need to worry! Our team has extensive experience in the construction and home repair industry so we can take care of any damage that has occurred due to your bee infestation. We even guarantee our work from leaks and defects, giving you the peace of mind you need.
Scripps Ranch Bee Removal Services – D-Tek Live Bee Removal
When you have a frustrating bee hive or swarm on your property, do not attempt to handle the situation on your own. Bee removal can be difficult and dangerous for those without the proper tools and equipment. At the first sign of a bee problem, call in the professionals at D-Tek Live Bee Removal. Our team will expertly remove your bees using the most humane techniques available. We also provide a full range of bee repair and bee proofing services for all of our Scripps Ranch customers.
Contact D-Tek Live Bee Removal today for your inspection and free estimate. We look forward to serving you!