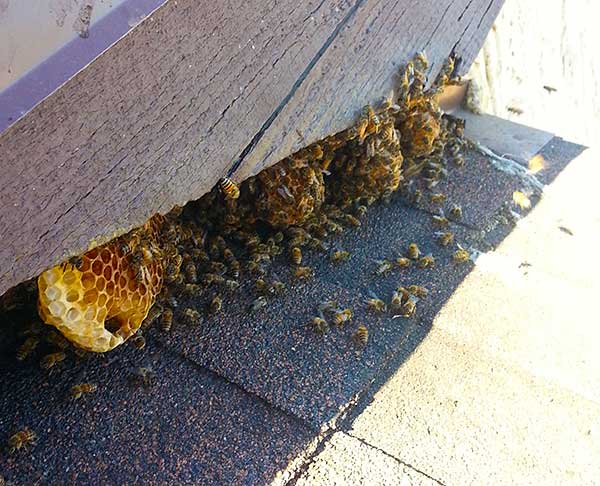 Del Mar is where the surf meets the turf and is arguably one of the most scenic areas of San Diego County. The racetrack and beachside public areas are a haven for bees, and other pollinators, as the climate is just about perfect all year. The structures of Del Mar Fairgrounds and the train tracks surrounded by nature bathed in sunshine and a breeze off the ocean make it ideal for bees and other pollinators. Stables and stationary structures are always susceptible to beehives. A professional beekeeper or bee removal company can come to a facility or home to help identify bee-proof areas to prevent beehives from developing. Sometimes beehives end up in a structure's walls, which can be challenging to deal with after the fact.
Del Mar residents trust D-Tek Live Bee Removal to handle their bee infestations, swarms and hives. As a full-service bee removal company, D-Tek Live Bee Removal offers much more than just quality, humane live bee removal. Our technicians also specialize in bee removal repairs and bee proofing to keep your home or business safe from future bee issues. 
Del Mar Live Bee Removal Services
Bee removal is a difficult and dangerous job. It requires specialized equipment and skills that most homeowners don't possess. Instead of attempting to rid your home of a honey bee problem on your own, call in the professionals at D-Tek Live Bee Removal. Our team of expert bee removal technicians can be at your home or business quickly to provide you with a fast and accurate inspection and quote. And as a local company who has served Del Mar and the surrounding San Diego County area for over 15 years, you can feel confident that you are getting fair service at a great price. 
#1 Live Bee Removal Service Del Mar
At D-Tek Live Bee Removal, we provide safe and humane live bee removal services to our Del Mar customers. Unlike traditional pest control companies, we never use chemicals or pesticides that can be harmful to bees and humans in our removal process. We utilize a special vacuum system that allows us to safely remove the bees alive from your home or business. Then, we relocate them to a local apiary where they can continue to live, thrive and pollinate. Because of the delicate nature of our honey bee population, choosing live bee removal means that you are doing your part to protect bees and sustain our local ecosystem. 
All of our honey bee removal services include: 
Live, humane removal of all honeybees

 

Complete removal of all honeycomb and beehive
Rehoming of the honeybees to a local apiary

 

Professional bee repairs to roof, stucco and drywall
Guaranteed bee repair and bee proofing services

 
With D-Tek Live Bee Removal, you can rest easy knowing that your bees are removed and that steps have been taken to ensure that they don't return to the same location again in the near future. 
Del Mar Bee Proofing Services
After the time and expense of having bees professionally removed from your home or business, you want to feel confident that your bee problems are over. At D-Tek Live Bee Removal, we provide bee proofing services during every removal. Using a non-toxic sealant, our technicians will seal all potential access points to the area to prevent bees and other insects from re-entering. We also provide preventative bee proofing services, sealing cracks, open areas around vents and other easy-access areas around your entire home. When you work with our team, you won't have to worry about bees anytime soon! 
Get help with your beehive or bee swarm removal!
Call Today 760-224-3040 Or 951-265-8292!
Bee Removal Repairs Del Mar
During a bee removal, it is critical that your technicians remove all signs of a bee infestation, including any bees, honey and honeycomb. Why? Bees have an excellent sense of smell. Remnants of a hive can attract other bees to the area in the future, meaning you will have another infestation on your hands. Sometimes pieces of your structure, such as stucco, roofing and siding, will need to be removed in order to fully access the bees.
With a professional company like D-Tek Live Bee Removal, you won't have to worry about hiring another service provider to fix the damage. We have many years of experience in the construction industry and can perform the repairs you need to return your property to a safe and usable condition. Our work is guaranteed from leaks, giving you the peace of mind you need.
Del Mar San Diego Bee Removal Services
If you have a bee hive or swarm on your Del Mar property, do not hesitate to call the professionals at D-Tek Live Bee Removal. Our team provides expert live bee removal, bee repairs and bee proofing services throughout the San Diego area. Call our office today at 760-224-3040 to schedule an inspection and to obtain a quote. We can usually respond to your call same-day!