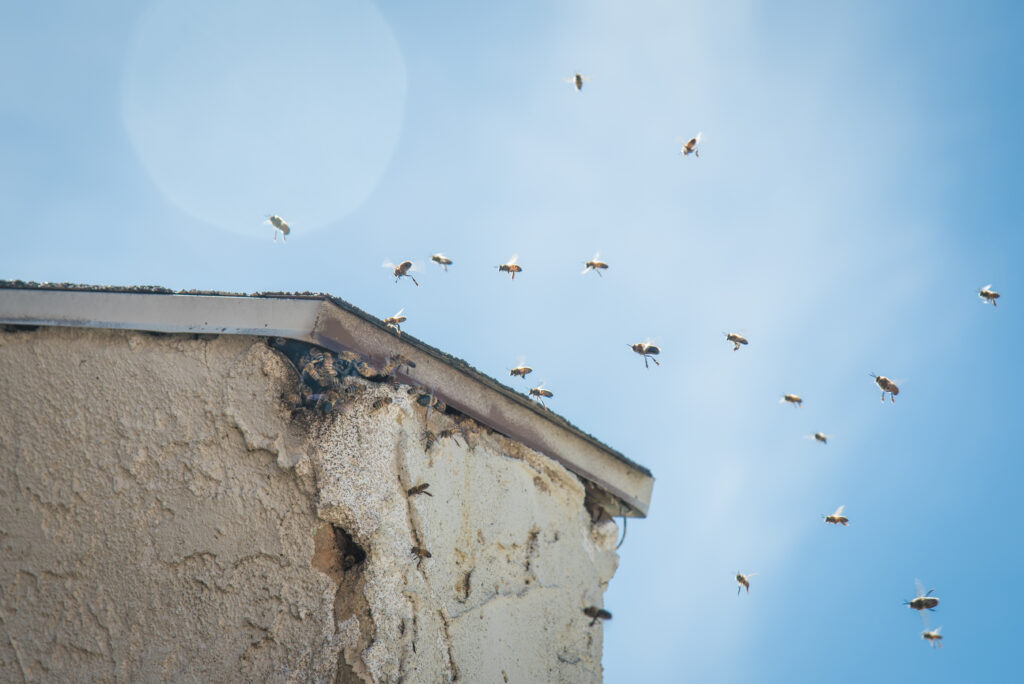 If you live in Laguna Hills or have a business here, you have likely encountered bees in their natural habitat. As California continues its efforts to protect these pollinators, dealing with any bee concerns like live bee activity or beehive removal should only be handled by professionals like D-Tek – the only live bee and beehive removal company that can solve any bee problem in Laguna Hills. Serving the Laguna Hills area, D-Tek's owner and expert technicians have been successfully helping customers throughout the Laguna area.
D-Tek Is Ready to Go for Laguna Hills Customers
If you have a bee problem and live or work in Laguna Hills, call D-Tek for safe and humane bee removal services. Residents and businesses rely on the quick response and top-quality work of all D-Tek Technicians. There is no better live bee or beehive removal company in Orange County. D-Tek has the knowledge and experience to get the job done, no matter how challenging, and leaves customers satisfied and bee-free! Honeybee swarms, increased bee activity, and hive removal are the only things that D-Tek handles. Other pest control companies treat all insects and pests the same, often using toxic chemicals to eliminate any unwanted activity. However, honeybees are critical to our ecosystem and must be treated differently than other pests, like roaches.
If you have a bee problem in Laguna Hills and contact D-Tek for an assessment and estimate, you can get same-day service in most cases. D-Tek understands how critical it can be to address a bee problem immediately. They want their Laguna Hills families and businesses to have peace of mind that any bee problem will be addressed so they can get back to their everyday lives soon as possible.
Beehive Removal Repairs In Laguna Hills
In some cases, when bees find an opening in a structure, and they build a hive where you can't clearly see it, the hive may be large and heavy and is within the walls or attic of a building. In these delicate bee infestations, stucco and other materials may need to be removed to remove the beehive completely. D-Tek is always upfront about the necessity to remove hives entirely to prevent bees from re-establishing in the exact location. Bees have excellent olfactory senses and will find an old hive improperly removed. If ANY of the hive or ANY honeycomb is left behind, bees may come back, or the leftover honeycomb will melt and rot and attract rats and other unwanted pests. It is critical to have a reputable and experienced bee removal company doing any work that requires construction work. D-Tek is the only bee removal company that provides repair work following a successful beehive removal and guarantees it!
Laguna Hills Properties Benefit from Bee Proofing
Another service D-Tek offers that any other bee removal company can't match in Orange County is bee-proofing. Anyone purchasing a property or preparing for the busiest bee season should consider bee-proofing their home or business. D-Tek's professional team comes to the site, walks customers through the process, helps identify potentially vulnerable areas around the perimeter, covers up existing holes that may allow bees in, and searches the property for unusual bee activity that may indicate a hive. D-Tek technicians will educate clients who want to know how to bee-proof their homes.
If you notice increased bee activity around your business or home, bees may have established a hive, and you should contact D-Tek immediately to come out and look. Catching a hive early can prevent damage and deter bees from coming back to your property. Suppose a family member is allergic to bees, or your business has a hive in a location that may threaten people or pets. In that case, you are responsible for addressing beehives and creating a safe environment. Using D-Tek ensures bees are removed humanely and relocated to a local beekeeper. D-Tek takes extreme measures to ensure the safety of the people, then the bees.
Get help with your beehive or bee swarm removal!
Call Today 760-224-3040 Or 951-265-8292!
Laguna Hills #1 Bee Removal Company Keeps Public Areas Safe
D-Tek is the top-ranked bee removal service in Laguna Hills and surrounding environs. D-Tek is known for fast response, friendly technicians, experts in bee behavior and hive location, thorough removal of beehives, excellent service, and complete and guaranteed repairs. Laguna Hills clients give glowing reviews of D-Tek's continued excellence in serving customers in the area. D-Tek works with customers and finds affordable solutions that can take care of any bee problem.
Although increased bee activity or beehives can be scary and dangerous, D-Tek has over a decade of experience helping Laguna Hills residents and businesses in times of need. There is no bee removal that the qualified team of specialists at D-Tek can't handle. Call today for a quote and an experienced technician to visit your home or business.