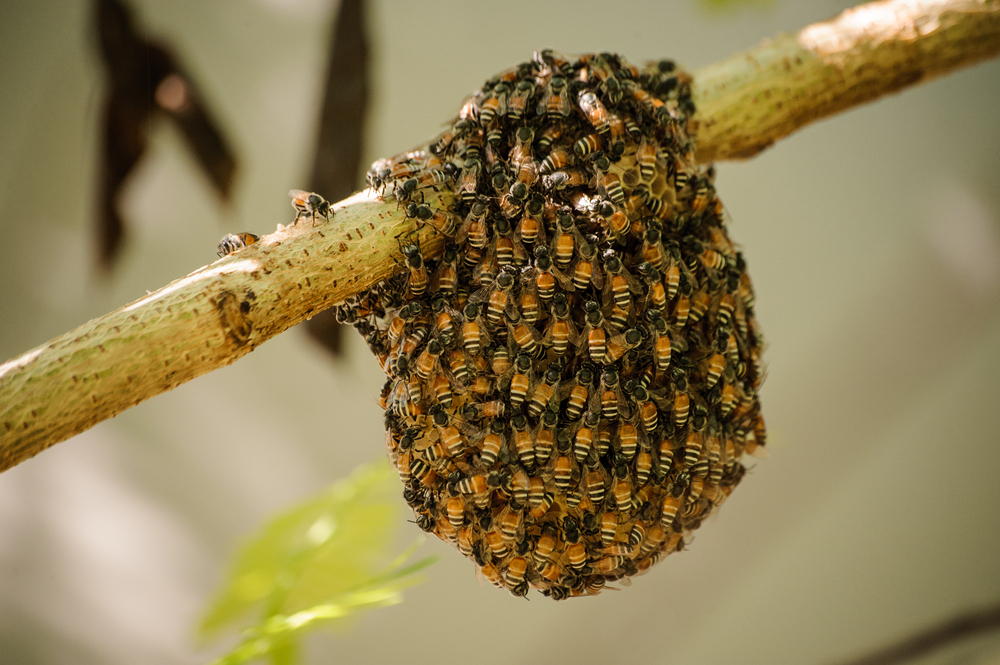 Lake Forest is a beautiful area in Orange County with two lakes that create a natural environment that anyone would be lucky to call home. It doesn't matter where you live or work in Lake Forest, you have plenty of open space and natural beauty off the beaten path. Outdoor activities are year-round, thanks to the ideal climate and warm weather. The natural habitats in Lake Forest is a haven for nature's workers. Bee activity is something Lake Forest residents and businesses manage throughout the year. When a bee problem needs addressing, Lake Forest depends on the professional and excellent bee removal services of D-Tek.
Lake Forest's Best Live Bee and Beehive Removal Service
D-Tek has helped hundreds of clients in and around Lake Forest handle bee problems and concerns. All D-Tek staff and technicians are experts in bee activity and behavior. They maintain strong relationships with local beekeepers who work alongside them during the removal and relocation of honeybee hives in Lake Forest. Since several species of honeybees are protected in California, and there is a strong movement for the protection of bees in the environment, removing beehives and live bees is delicate. It should not be handled by a regular pest control company that will use toxic poisons to eliminate unwanted activity.
Lake Forest counts on the knowledge, expertise, affordability, professionalism, and excellent work of D-Tek when it comes to bee concerns. Only D-Tek guarantees their bee removal work and does any repairs immediately, which are also guaranteed.
Lake Forest's Parks and Trails
Lake Forest offers incredible trails and parks and has an active outdoor lifestyle. The City of Lake Forest needs professional bee removal services when addressing a hive or increased live bee activity on or near trails that may pose a risk to people or pets using them. The perfect year-round weather makes it difficult to stay inside, and Laker Forest residents enjoy many activities that put them right in the middle of naturally beautiful open spaces.
D-Tek has been working with customers in Lake Forest for over fifteen years and is, hands down, the best bee removal service in Orange County.
D-Tek's Humane Bee Removal is Industry's Best
When a bee swarm or hive is inconvenient, especially when someone near is allergic to bee stings, they are looking for a humane way to get rid of the problem while keeping the bees alive in a different location away from the property. Bees are strong-willed and free spirits. Lake Forest residents and businesses count on D-Tek's knowledge and expert technicians to properly care for and humanely handle bee problems.
D-Tek has proven time and time again to customers that bees can be removed safely, humanely, and completely. D-Tek's years of experience allow them to lead the industry in humane and effective live bee and beehive removal in Lake Forest. When an event or outdoor gathering is planned, and a beehive is discovered at the last minute, D-Tek can dispatch a qualified technician out the same day and remove the beehive completely. Suppose it is increased bee activity in the area. In that case, D-Tek can come to the site, assess the increased activity, and make affordable and effective suggestions so events do not need to be canceled or the location moved.
D-Tek's Guaranteed Bee Removal and Repair Services in Lake Forest
Only the highest quality and experienced bee removal company can guarantee their work. D-Tek has handled small beehive removals and removals of hives that have grown over fifty or sixty pounds that are hidden in a wall! The level of experience and dedication of D-Tek to bee removal is unmatched.
Wanting a hive removed is nothing to be embarrassed about. D-Tek's priority is keeping people and pets safe while humanely removing hives, helping customers deter further bee activity, and helping them understand how to bee-proof their properties in the future. D-Tek's owner has worked with homeowners, city and public services, and businesses throughout Orange County, specializing in the Lake Forest area.
D-Tek's expert technicians are also fully trained and certified in construction work. If damage must occur for complete hive removal on a property in Lake Forest, technicians can complete repair work on the same day. No waiting for another professional to come to handle repairs. D-Tek guarantees all repair work and provides customer support following a service.
Get help with your beehive or bee swarm removal!
Call Today 760-224-3040 Or 951-265-8292!
Best Lake Forest Bee Removal Services
Lake Forest is a natural setting of trees, plants, blooms, wide open spaces, and all the critters and pollinators that enjoy the variety. Experience counts when it comes to getting the results Lake Forest customers want and deserve when it comes to handling bee problems. Only D-Tek can deliver top quality and exceptional service. There is no better bee removal company with fast response, professional and upfront communication, affordable rates, and guaranteed work.
If you have a home or business in Lake Forest and have a bee concern, please get in touch with D-Tek today for an estimate!