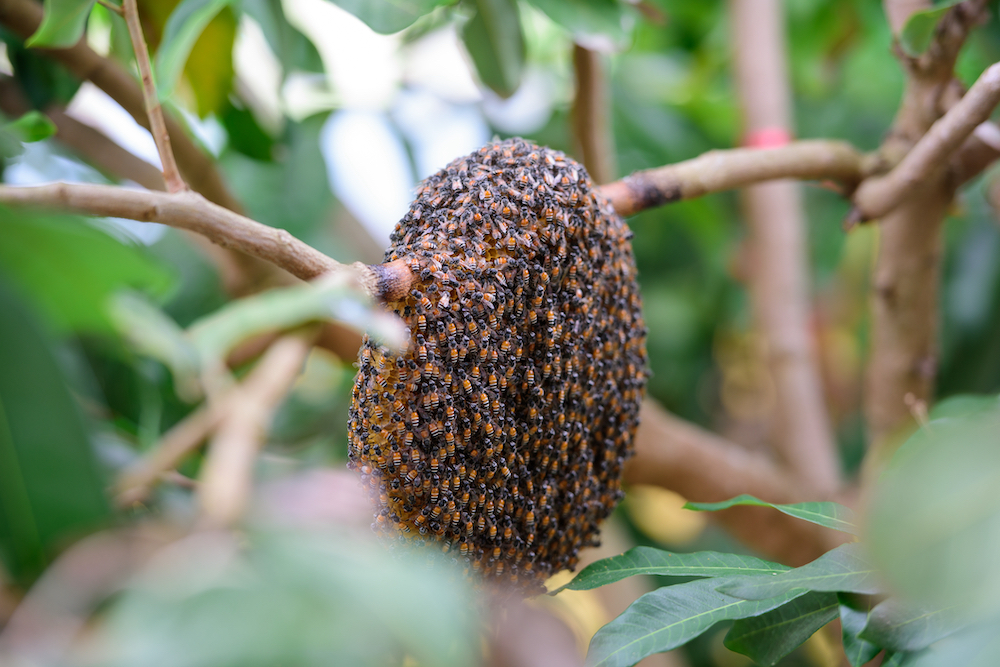 Aliso Viejo may be best known for its incredible master-planned communities and excellent schools, and it remains one of the safest cities in our nation. Families and businesses flock to the suburbs of Aliso Viejo and enjoy easy access to the coast of Laguna Beach. Residents and businesses in Aliso Viejo have the best of both worlds – a beachy feel with high-end shopping, restaurants, and loads of outdoor activities for locals and visitors. Like other Orange County cities, Aliso Viejo has an ideal climate all year. Hiking trails and natural reserves allow residents to enjoy the outdoor feel with all the amenities of a bustling city.
Naturally, bees also enjoy this ideal climate and often make homes in the city of Aliso Viejo. In many cases, hives do not pose a threat to people or pets and are left alone. Aliso Viejo residents have a keen sense of what is best for the environment. They are also quite active in protecting bees, which is why Aliso Viejo residents depend on D-Tek Bee Removal for any bee concerns or issues.
D-Tek's Safe and Humane Bee Removal
D-Tek is the only full-service bee company that uses safe and humane removal processes. D-Tek also has many relationships with local beekeepers that can meet them at the job site or be a new home for the bees. To minimize the environmental impact of a beehive relocation, D-Tek uses the right equipment and tools to get the job done well while doing everything possible to save the bees. Honeybee populations are on the decline, and Aliso Viejo has a unique opportunity to protect bees when it is necessary to relocate them locally.
D-Tek Bee Removal has helped remove and relocate beehives throughout Aliso Viejo, including shopping centers, private homes, golf courses, and campuses. Aliso Viejo trusts D-Tek to handle all their bee problems and concerns. If there is a need, D-Tek will meet it. You can call anytime with questions and to have someone come out for a free assessment and estimate. Contact D-Tek anytime and get the response you deserve. In most cases, D-Tek's owner and a team of qualified technicians can come out to the job on the same day.
Aliso Viejo appreciates the care, quality, and professionalism only D-Tek offers in bee removal services!
Honey Bee Infestations Can Cause Damage
Once a beehive is in the wall, attic, or some other structure, the hive often goes beyond the line of sight where the damage has occurred. Many Aliso Viejo residents understand that a professional bee company should investigate increased bee activity, and there is no better than D-Tek - their knowledge and experience can't be matched. Although bees swarm throughout the year, increased bee activity more often indicates a hive being established. Hives develop quickly and can grow large and heavy. It is critical to contact a professional bee removal company, like D-Tek, as soon as you notice.
When a hive becomes an infestation, there will likely have to be some stucco removal to remove the hive entirely. Although no Aliso Viejo resident wants that, removing the hive and all honeycomb is necessary before sealing it back up. The good news is that D-Tek offers full-service bee removal repair, so customers do not have to get a different person to come out and fix the damage caused by the hive removal. D-Tek is the only company guaranteeing the entire hives' removal and leakproof repair work.
D-Tek's Affordable Bee Removal Rates
When facing a bee problem, cost should not prevent people from enjoying the outdoors and feeling safe from an unwanted beehive in the area. D-Tek works with clients of all budgets and never sacrifices quality. In fifteen years, D-Tek has helped hundreds of clients in Orange County cities, including Aliso Viejo.
Get help with your beehive or bee swarm removal!
Call Today 760-224-3040 Or 951-265-8292!
Best Aliso Viejo Live Bee and Beehive Removal Services
If you are still trying to decide, call D-Tek for a free estimate and consultation. You will be satisfied with the availability and professionalism of the D-Tek team. Dedicated 100% to safe bee removal and relocation, D-Tek works with bees only, which makes them a much better choice for bee control. Pest control companies do not specifically use products to keep bees safe. Even if bees are killed, if any of the hive or honeycomb remains, you will likely have a recurring bee problem at your Aliso Viejo home or business. D-Tek ensures this will not happen because they know how disruptive the process can be!
If you live in Aliso Viejo and face a bee problem or concern, call D-Tek anytime for more information. Helping people and helping bees is what D-Tek does better than any other bee removal company in Southern California.