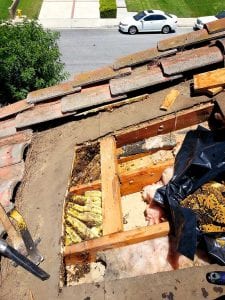 The City of El Cajon is "the box" of San Diego County, quite literally. The city's inland location was once only ranchos, home to cattle ranchers and farmers. Today, many residents enjoy the lower cost of living El Cajon offers while enjoying the beautiful weather only California can promise. El Cajon is drier, and since bees do not like rain, the location is a natural stopping place for bees to build hives. Unattended property and natural landscaping allow bees to find new hive locations independently. Bees are free spirits and often find good nesting areas where they are left alone. However, with the growing residential development in El Cajon, it is sometimes necessary to relocate a beehive or get rid of a dangerous wasp's nest. When facing the dilemma of needing a beehive removed for inconvenience or construction, contact DTek for affordable and excellent bee removal services.
Do you have a bee infestation in El Cajon, California? Is a large hive impacting your business or your family's safety? Are you looking for bee removal services from a local company you can trust? 
Don't let a honey bee hive or swarm frustrate you any longer. Call the professionals in live bee removal at D-Tek Live Bee Removal today for your free consultation and quote. For over 15 years, we have been providing our local neighbors the most comprehensive bee removal services available at the most affordable prices. At D-Tek Live Bee Removal, we specialize in safe and humane bee removal, bee removal repairs and bee proofing services. Get everything you need to remove and prevent bee infestations in your El Cajon home or business with just one phone call. 
#1 Rated Live Bee Removal Services El Cajon
When El Cajon residents need bee removal, they have three options: a DIY job, hiring an inexperienced pest control company or working with the leader in humane, live bee removal. Bee removal is not a do-it-yourself job. In fact, it can be very dangerous and difficult for those who do not have the skills, knowledge and equipment to do the job right. Novice bee removal technicians typically use harmful chemicals and other inhumane practices to remove bees. They usually don't have enough knowledge of bee behavior to do the job right, meaning that you will have another bee problem on your hands in the future. 
Hiring a professional live bee removal company is the only way to go when it comes to El Cajon bee infestations. At D-Tek Live Bee Removal, we offer the following bee services in El Cajon, California: 
Live Bee Removal
Unlike your typical pest control company, we never use pesticides to remove honey bees from your property. Instead, we use a humane vacuum system that safely removes the bees alive so they can be rehomed with our local beekeeper. 
Why is this important? Honey bees play an integral role in our ecosystem and are substantial contributors to agriculture. A large majority of the foods we eat are due to the pollination efforts of honey bees. By choosing live bee removal, you are doing your part to protect bee populations and contribute to our food system. 
Bee Removal Repairs
Bees tend to choose inconvenient locations in which to build their nests. It is not uncommon to find a hive in your attic, inside your walls or some other hard-to-reach spot. During a bee removal service, it may be necessary for your technician to remove pieces of your structure in order to fully access the bees and honeycomb. Our technicians have extensive experience in home repairs, so you can feel confident that your structure will be sound after the removal process. At D-Tek Live Bee Removal, we guarantee our repair work from leaks, seams and other inconsistencies that could cause you issues in the future. 
Get help with your beehive or bee swarm removal!
Call Today 760-224-3040 Or 951-265-8292!
Bee Proofing
A big part of our bee removal services involves bee proofing the area. Bees have an excellent sense of smell, so it is vital that your bee removal technicians remove all of the honey and honeycomb from the area, in addition to the bees. These substances contain odors that attract other bees, resulting in future bee infestations in the same location. In addition to thoroughly removing all traces of your bees, our technicians seal off all access points so bees can't enter the area again down the road.
Leading Bee Removal Company El Cajon San Diego
At the first sign of a bee hive or swarm on your property, contact the El Cajon live bee removal experts at D-Tek Live Bee Removal. We proudly serve El Cajon and the neighboring communities with the best bee removal, bee repairs and bee proofing services available.
If you need fast and affordable bee removal in El Cajon, call us today at 760-224-3040 to get an inspection and quote.