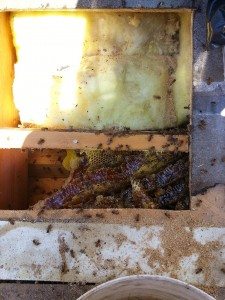 San Marcos has become one of the most sought-after areas in San Diego County to raise a family. Top-rated schools, parks, and hiking trails make outdoor living easy to access. Being outdoors in nature also includes encountering things, like bees or beehives, that may disrupt day-to-day activities. When people see increased bee activity, they can't be sure a hive is nearby. If increased bee activity is caught early, a professional bee removal company may be able to prevent the bees from further establishing themselves in an unwanted spot. If you notice heavier bee activity in or near your home, park, or business, call D-Tek to come out and assess the situation.
When San Marcos residents have a bee infestation, they trust the fast, reliable and affordable bee removal services from D-Tek Live Bee Removal. As a local company, we strive to provide our San Diego neighbors with the best live bee removal, bee repair and bee proofing services available in the area. Specializing in humane bee removal, we promise that our San Marcos customers always have peace of mind knowing that their bees will be removed alive and safely rehomed with a local beekeeper. 
Do you need immediate bee removal services to take care of a swarm or hive on your San Marcos property? Contact the professionals at D-Tek Live Bee Removal today at 760-224-3040. 
D-Tek Live Bee Removal San Marcos Bee Removal Services
Bee removal is a difficult job. When San Marcos residents have a bee issue, they should never attempt to fix the problem on their own. Instead, call the experts at D-Tek Live Bee Removal. As a local, fully-insured live bee removal company, you can rest easy knowing that expert technicians will arrive on your property with the knowledge, skills and equipment to get the job done right. And as a leader in live, humane bee removal, D-Tek Live Bee Removal does not use pesticides that can be harmful to the bees, your family or your home. 
We offer a full range of services for San Marcos residents including:
Bee Removal
San Marcos customers who choose D-Tek Live Bee Removal can feel confident that the job will be done right the first time. Many other companies will spray pesticides to kill the bees and call it a day. At D-Tek Live Bee Removal, we know how to properly remove bees so you can avoid more infestations in the future. 
Our bee removal specialists use a state-of-the-art vacuum system that is meant specifically for honeybee removal. The bees are removed alive and then dropped off at one of our partner beekeepers in the local area. This ensures that the bees can continue to pollinate and thrive. They can even be used to learn more about honeybees and honeybee behavior. 
What sets our services apart from other bee control companies is that at D-Tek Live Bee Removal, we do a complete job each and every time. This means that we completely remove all of the beehive and honeycomb from your home or other structures. Why is this important? Honeybees have an excellent sense of smell. Other colonies will be attracted to the scent of leftover beehive, creating another problem for you in the near future. 
Bee Repair
Many homeowners don't realize how much damage honeybees can do when they decide to build their homes in your attic or walls. And sometimes, to successfully access your bees, we will need to remove stucco, drywall or parts of the roof. 
Luckily, D-Tek Live Bee Removal has years of experience in bee removal repairs. We even offer satisfaction guarantees for all of our stucco, roof and drywall repairs. And with our free estimates and inspections and transparent pricing, you will know exactly what you are paying for. 
Get help with your beehive or bee swarm removal!
Call Today 760-224-3040 Or 951-265-8292!
Bee Proofing
Once you spend the time and money removing bees from your home, you want to know that they won't be back anytime soon. We include bee proofing in every bee removal service, ensuring that the infested area is protected from bees reentering the structure and rebuilding their beehive. In addition to treating infested areas, we can provide bee control services to protect your entire house. Our team will seal every crack, crevice, vent, and other access points to ensure your home stays bee-free.
Our Bee Removal Process
D-Tek Live Bee Removal offers full-service bee removal for San Marcos residents. Every customer will receive the following when they hire us to handle their honeybee swarm, hive or infestation:
Live, humane removal of all honeybees
Complete removal of all honeycomb and beehive
Rehoming of the honeybees to a local apiary
Professional bee repairs to roof, stucco and drywall
Guaranteed bee repair and bee proofing services
Trusted San Marcos Bee Removal Company
When you need fast and reliable bee removal services in San Marcos or the surrounding San Diego area, contact D-Tek Live Bee Removal. We can usually respond to your home within 24 hours to provide the bee removal, bee repairs and bee proofing services you need.
Call D-Tek Live Bee Removal today at 760-224-3040 for San Marcos bee removal.