Live Bee Removal La Mesa CA
La Mesa Bee problem? No Problem!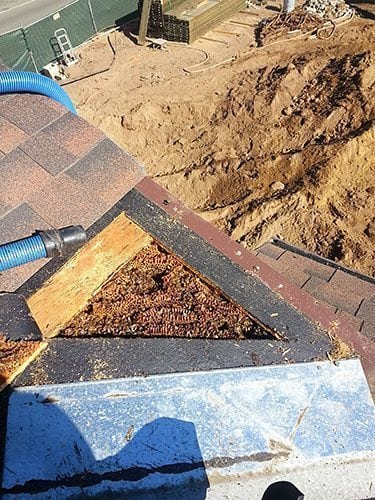 If you live in La Mesa and are in need of a professional bee removal service look no further than D-Tek Live Bee Removal. We specialize in the safe, humane removal of honey bees from your La Mesa home or business. We use a custom built bee hive removal vacuum that gently removes the honey bees into a holding chamber. From there we transfer them into a bee hive box and transport them our professional beekeeping farm in San Diego.
D-Tek Live Bee Removal offers free estimates and inspections in La Mesa. Rapid same day service is usually available. Don't hesitate to call any time day or night if you have a bee control issue in La Mesa. Our direct line is 760-224-3040.
Every beehive removal in La Mesa always includes the following bee removal services:
Complete extraction of all bee hive and honey comb from the structure
Live removal of all honey bees from your La Mesa home or business
Any repair work that may be needed to the structure
Written guarantee all repair work will be leak free and defect free
Written guarantee the honey bees will not colonize the same area again
Our bee proofing and bee control service
We are professional beekeepers with an Apiary in San Diego that we drop the bees off at
Bee Removal Frequently Asked Questions
Why is it important to remove all of the honey comb and bee hive from the structure?
If the honey comb is left in the structure of your La Mesa home or business there are many problems that can arise. Once the honey bees are no longer around to tend the bee hive it is not uncommon for the honey to melt out of the hive and cause damage to the structure. This can include stains to drywall, stucco, siding, wood framing, and molding/millwork. A bee hive that is not properly removed will also attract other common household pests looking for a snack such as ants, mice, rats, etc. It is important to remember that honey bees have an excellent sense of smell. A bee hive that is left in a structure is a magnet for other bee swarms in the area. It is essentially like leaving a giant flower in your home or business. If the bee hive is not properly removed you will have reoccurring bee problems for years to come. While it may be cheaper up front to simply remove the honey bees and leave the bee hive in the wall, attic, floor, etc in the long run it will save you time, money, and a headache by having a proper bee removal performed.
How do you go about fully removing the honey comb from my home or business in La Mesa?
Each situation is different. It depends mostly on where the bee hive is located. Honey bees tend to build their hives in areas that are sheltered from the elements. The most common spots are attics, walls, floors. In most cases the only way we can properly remove all of the honey comb from the structure is by cutting into drywall, stucco, siding, or the roof. We perform over a thousand roof, stucco, and siding repairs each year in San Diego County without leaks or any calls backs. We offer guarantees on all roof, stucco, and siding repairs that they will be leak free and defect free. If we have to make a cut in the drywall to remove a bee hive we guarantee that the repair will blend seamlessly with the surrounding area.
What are the most common areas that D-Tek Live Bee Removal finds bee hives?
Honey bees will build a hive just about anywhere. We have seen large La Mesa beehives under roof eaves, walls, attics, irrigation boxes, even on the sides of stucco walls. The most common spots are as follows
Attics
Walls
Irrigation Boxes
BBQ's
Boats and RV's
Bird Houses
Chimneys
Air Conditioning Units
Hose Reel Boxes
Outdoor Storage Units
Trees and Bushes
Hollowed Out Tree Trunks
How often do you come across Africanized honey bees in La Mesa?
It is not a common occurrence. Generally speaking Africanized honey bees will build their nests closer to the ground. They are not picky at all with where they will build a hive. Africanized honey bees can be very aggressive and will follow people for 1/4 mile or more of threatened.
After the live bee removal has been completed what do you do with the honey bees?
We drop the honey bees off at our very own bee farm here in San Diego. We are professional beekeepers who have a great relationship with bees. Our apiary has 45 plus well maintained hives that are used to pollinate nearby orchards and fields. We then harvest raw honey, pollen and beeswax from our hives that we offer to the public. Are you a farmer looking to purchase or rent a bee hive? We have beehives for sale or rent for pollination services.
Bee Control Services La Mesa
After the bee hive removal is completed and all necessary repair work finished it is time to start the bee proofing process. We also refer to this as bee control. This process consists of a technician going over every crack, crevice, or vent that a honey bee could squeeze through in a 10 foot radius around the original hive entry and exit point. The bee control service is included with every bee removal we perform.
D-Tek Live Bee Removal also offers whole home or business bee control services in La Mesa. Our bee control service is the best step you can take to make sure that you will never have a bee problem at your La Mesa home or business. We are experts at bee proofing your home or business. We employ high tech methods of finding any holes, gaps, or cracks with the use of a thermal imaging camera. This will show us a read out on screen of any possible entry and exit points for honey bees may use to build a hive. It is always a good idea to have this service done in the colder months before bee swarming season begins. Better to be proactive than reactive!
Contact The Bee Removal Professionals
If you want rapid response from the true bee hive removal experts give us a call today! Our direct line is 760-224-3040. We are open 24/7, holidays, and weekends. If we do not answer please leave a message and we will call you back ASAP. Usually within 30 minutes. You can also get in contact with us by filling out the beehive removal contact form on this website.