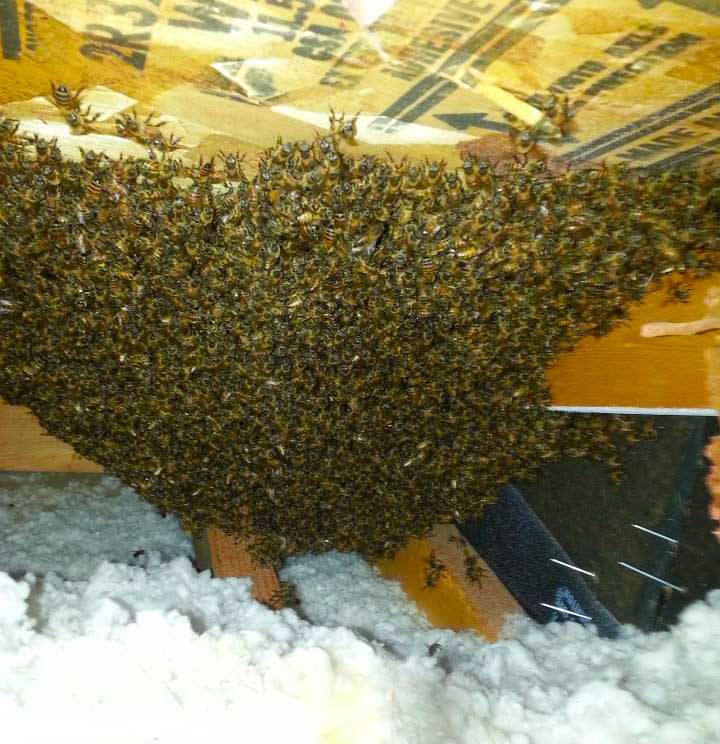 Residents and businesses in Fairbanks Ranch enjoy the true San Diego lifestyle with tennis courts, golf courses, equine centers, and active outdoor living. An area so conducive to being outdoors most of the year means trails, neighborhoods, and public facilities need to be kept free from beehives and other threats to continual people and pet traffic. Bees enjoy the weather and many hive location options in the area, but those who live in Fairbanks Ranch know they can depend on the professional bee removal services of DTek. Offering the highest quality and most humane removal of undesirable beehives, DTek is unmatched in experience and quality of work. If you live in Fairbanks Ranch or own or manage a business and need to have a beehive safely removed, please do not hesitate to call DTek Bee Removal Services.
When residents of Fairbanks Ranch need an expert in live bee removal, they rely on the professionals at D-Tek Live Bee Removal. We have proudly served our Fairbanks Ranch neighbors for over 15 years with the latest in safe and humane live bee removal services. If you have a honey bee hive, swarm or infestation on your property, your first call should be to the bee removal specialists at D-Tek Live Bee Removal. We can get an expert to your property quickly and hassle-free. And with our free consultations and transparent pricing, you can feel confident that you are getting the service you want for a fair price. 
Why Choose D-Tek Live Bee Removal for Fairbanks Ranch Bee Removal Services?
Not all honey bee removal companies are the same. When you work with D-Tek Live Bee Removal, you are getting the premier provider of humane bee removal services in the area. What does this mean? Live bee removal services are different than your average pest control services. We use a custom vacuum system that safely removes the bees from your property without harming them. 
This allows us to transport the bees to a local apiary where they can continue to live, thrive and pollinate. Our partner beekeepers even study your bees so they can learn more about honey bee behavior and conservation. 
In addition to our humane treatment of honey bees, our bee technicians have a deep understanding of bee behavior. When they go into your home to do a removal service, they don't just remove most of the bees or hive. They know that bees have an incredible sense of smell. Any leftover bees, honeycomb or honey after a removal will attract other bees to the area in the future. In addition to more bees, other unwanted critters like rodents and insects may be tempted by the sweet smell of the honey. 
At D-Tek Live Bee Removal, we remove all signs of your bee infestation and take measures to deter bee activity in the same place in the future. Our top-notch services will give you peace of mind! 
Fairbanks Ranch Bee Removal Services
When you choose to hire D-Tek Live Bee Removal, you are doing more than simply getting rid of a pesky bee problem. You are doing your part to protect and preserve your local honey bee population. With all of our honey bee removal services, our Fairbanks Ranch customers will receive: 
Live, humane removal of all honeybees

 

Complete removal of all honeycomb and beehive
Rehoming of the honeybees to a local apiary

 

Professional bee repairs to roof, stucco and drywall
Guaranteed bee repair and bee proofing services

 
Bee Removal Repairs
Honey bees won't always choose to build their nests in easy to access locations. In fact, they typically choose protected spaces that are insulated and hidden from potential predators such as inside walls, in the rafters of your attic or in the eaves of your roof. In most cases, your bee removal technicians will need to remove portions of your structure to access the bees, including stucco, siding and drywall. Our team is highly experienced in performing bee removal repairs, so much so that we guarantee all of our repair work from defects and leaks. 
Get help with your beehive or bee swarm removal!
Call Today 760-224-3040 Or 951-265-8292!
Fairbanks Ranch Bee Proofing
A honey bee infestation on your Fairbanks Ranch property can be stressful. The last thing you want after successfully removing the bees is another infestation shortly after. At D-Tek Live Bee Removal, we specialize in bee proofing and bee control. We take measures to secure the area after a removal so bees won't be able to reenter the same location. Focusing on a 10-foot radius from the original infestation, our team of Fairbanks Ranch bee proofing experts will fill all holes, gaps, seams and cracks to eliminate access for other bees.
If you are concerned about bees building a hive inside your home, we can also provide bee proofing services for your entire house or business. Our guaranteed bee control services can help you feel confident that you are protected from future bee infestations.
Contact D-Tek Live Bee Removal Fairbanks Ranch San Diego
If you suspect that honey bees have infested your property, don't wait to call in a professional live bee removal team. The longer you wait, the more serious and expensive the problem can become. Instead of removing them yourself, call D-Tek Live Bee Removal today for a free consultation and quote. We can dispatch a technician to your home quickly – usually the same day!
Call us at 760-224-3040 for the best Fairbanks Ranch live bee removal services.