Live Bee Removal Rancho Santa Fe
Bee Hive Removal Experts Rancho Santa Fe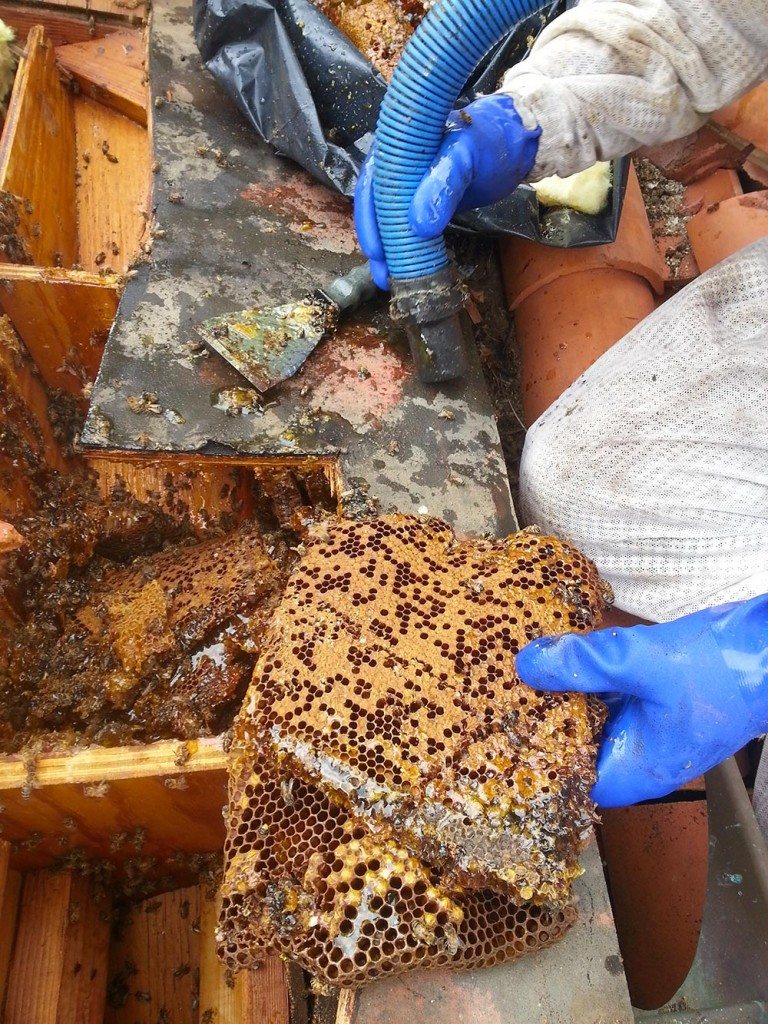 Do you live in Rancho Santa Fe and need the bee removal services of a true professional bee control company? Look no further than D-Tek Live Bee Removal. We are a local full-service local San Diego bee removal company. We utilize a custom-built vacuum system during our the removal process. After we have successfully vacuumed up all of the honey bees we transfer them into a bee hive box and drop them off to a local San Diego County beekeeper.
Every live Rancho Santa Fe bee removal we complete always includes all of the following services:
Full removal of all beehive and honeycomb
Live removal of all bees
Dropping off all the bees to a local beekeeper or our own apiary
Any repair work that may be necessary to the structure
Guarantee of all repairs to be free of any defects
Bee proofing of the area the bees were located
Guarantee the honey bees will not return to the same area
Honey bees have an excellent sense of smell. If all of the honeycomb is not removed during the removal process you will more than likely have an issue with bees returning to the same area sooner rather than later. By not removing all of the beehive you also run the risk of the honey melting and causing damage to drywall, stucco, framing, electrical wiring, etc. There is no shortage of bee control companies that will come to your Rancho Santa Fe home or business and spray pesticides to kill the bees and leave the beehive in the structure. It is the above-mentioned reasons why that is never a good idea.
It is not uncommon for honey bees to get into some very difficult Rancho Santa Fe areas:
Attics
Walls
BBQ's
Boats
Sheds
Fireplaces
Irrigation Boxes
Honey bees will build a beehive almost anywhere. We have even performed live bee removals from the sides of exterior stucco walls. When honey bees decide to swarm and build a beehive in an attic or wall we usually have to cut into the roof, stucco, or drywall to properly remove all of the honeycomb. We include any repair work in each removal we perform. We guarantee that our roof and stucco repairs will not leak. We guarantee our drywall repairs to blend seamlessly with the surrounding area.
D-Tek Live Bee Removal offers free estimates and inspections. We also provide a copy of our insurance to every customer with our written quote.
Bee Control Rancho Santa Fe
After the actual live removal has been completed and all associated repairs it's time to start bee proofing. This is also known as bee control. We include bee control with every removal we perform. We bee proof in a 10-foot radius around the original beehive entry/exit location. The area we perform the bee control service in is covered under our guarantee.
We also offer whole home or business bee control service. Let one of our skilled technicians cover every vent, every crack, every crevice, and never have to worry about a bee problem ever again.
San Diego Beekeepers
Where do we take our honey bees we rescue to? We have many different beekeepers we drop our honey bees off to. The most common beekeeper drop off spots are Encinitas or Temecula. The beekeeper in Encinitas that we drop the bees off to uses them for pollination and scientific research. The beekeeper in Temecula is located in wine country. No shortage of pollination to do there that's for sure!
Contact Bee Removal Experts Rancho Santa Fe
You can give us a call day or night regarding your bee problem. Our direct line is 760-224-3040.
Our direct line is 760-224-3040
You can also get in touch with us by filling out the contact form on this website. We will get back to you ASAP regarding your bee removal needs. In most cases we can have the bee removal service completed within 24 hours of first contact. Don't wait call today!