Having live bees, a swarm, or a colony removed from your San Diego home or business can be stressful. There is a sigh of relief once bee activity subsides. However, if a bee removal company doesn't do the job well or leaves a wake of damage in the path, home, and property owners can end up frustrated. Companies like D-Tek guarantee their work from beginning to end.
Fortunately, professional bee removal service companies like D-Tek specialize in bees. Many pest control services claim they handle beehive removal, but it is part of their more extensive pest control service. Someone without enough experience may carelessly mishandle bees or leave the property a mess. Bee removal repair services are where D-Tek shines. D-Tek has been servicing clients throughout Orange County, Riverside, and San Diego for more than ten years. With experience comes tools, equipment, and a level of service that others can't offer.
Minimal Beehive Removal Damage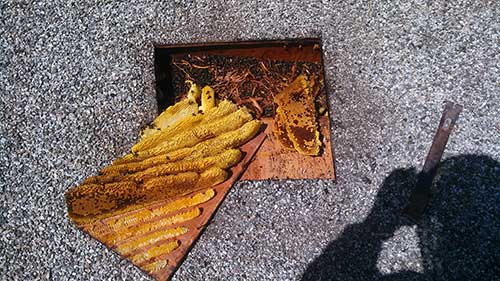 When a beehive is removed, D-Tek takes every precaution to minimize risk and property damage. Using the right tools, performing services at the best time, and doing a thorough job are what clients can expect when using D-Tek.
However, sometimes, bees have been in a location for enough time that they are well nested in the wall or another part of a structure where removing a beehive in its entirety will cause some damage. The weight of comb and honey can be heavy, and infestation may end up more extensive than the initial assessment. However, even in extreme situations where hives are of a significant size and weight and widespread, beehive removal is no excuse for leaving a property in disarray. Complete beehive removal services should not stop once the beehive or live bees are gone. The process should include an exceptional job of fixing any damage caused by the beehive removal.
Beehive Removal Structural Repairs Should Be Addressed Right Away
D-Tek offers a complete live bee and beehive removal process that takes clients every step of the way, never leaving a property damaged or debris lying around after removal. Professional bee removal companies like D-Tek give clients a clear vision of the process and what will likely occur to the property. Of course, there are exceptions. When a bee removal service arrives, and they have to remove part of a wall, they may find a larger hive or colony than expected. At this time, D-Tek professionals will stop and discuss options with the client so they know about any changes.
Since homeowner's insurance does not cover pest control or beehive removal, working with a reputable, skilled, and quality beehive removal service company like D-Tek is essential. Property should be returned to its original condition following a beehive. In any situation where a return visit is needed to finish up the work, coordination should be easy and convenient. D-Tek puts clients first, works around their needs and schedules, and prioritizes urgent beehive removals and repairs.
The D-Tek guarantee for beehive removal repair services is not offered by any other company in the area. Repair work doesn't just look nice when D-Tek finishes beehive removal repair. The work is guaranteed not to leak or need additional repair. The idea of fighting with a company to come and finish the job they did or finding out when the first rain comes that the repairs leak is something no property owner should have to worry about. D-Tek's approach to business is thorough, and friendly professionals perform services.
Get help with your beehive or bee swarm removal!
Call Today 760-224-3040 Or 951-265-8292!
Serving all of San Diego and Beyond
If you live in Southern California, whether beachside, canyon, or valley, D-Tek can often provide same-day services. Available 24 hours a day to take your call, D-Tek has been in the industry long enough to understand the urgency when it comes to bees in Southern California.
Bee Removal Professionalism All The Way
When it counts, and you need bee or beehive removal or someone to repair beehive removal damage, contact D-Tek for the best services in Southern California. Repairs will never be a separate service when using a full-service bee removal company like D-Tek. Skilled in roof, stucco, and siding removals, D-Tek is a full-service bee removal company, and clients are repeatedly satisfied by their services. California offers some of the most consistent and beautiful weather in the nation. As lovely as this is, Californians also know bees do not pause for extreme weather because they do not have to with sunshine and warm weather all year. No matter what your bee need is, contact D-Tek today for live bee or beehive removal, and rest assured you are hiring the best in the bee business.