Beehive in Solana Beach? No Problem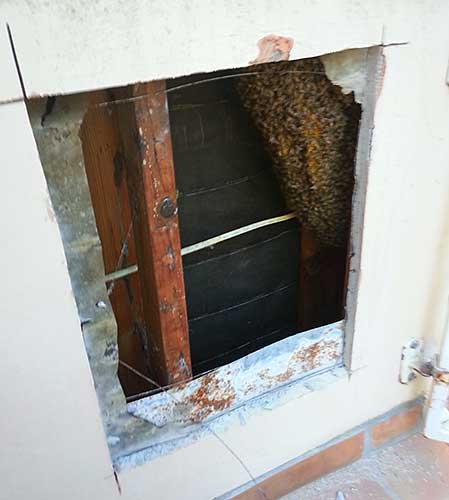 Do you need bee removal in Solana Beach? Look no further than the bee control pros at D-Tek Live Bee Removal to permanently solve your bee infestation. D-Tek Live Bee Removal is a local San Diego bee removal company located in North San Diego County. We utilize a state of the art bee removal vacuum system to gently extract the honey bees from your Solana Beach home or business. After we have safely performed the live bee removal we then transfer the honey bees to a hive box. From there we drop them off to a local beekeeper in San Diego.
Below is an outline of our bee removal services. Every Solana Beach live bee removal always includes all of the following:
Full removal of all bee hive and honey comb
Live bee removal
Any bee removal repair work that may be needed to the structure
Dropping off of honey bees to a San Diego beekeeper
Guarantee that all repairs are free of defect and if applicable will not leak
Bee proofing and bee control services
Guarantee honey bees will not infest the same area
By choosing D-Tek Live Bee Removal to solve your bee problem in Solana Beach you can be assured that it will be taken of quickly and professionally. All of the technicians at D-Tek Live Bee Removal do a very thorough and complete job with all of the above mentioned steps. There are no shortage of bee removal companies in Solana Beach who will simply show up to your home or business and exterminate the honey bees leaving the actual bee hive and honey comb in the structure. There are many problems with this approach. Honey bees have an excellent sense of smell. Any bee hive left behind will attract bees back to that same area for years to come. Another issue with leaving the bee hive in the structure is that after the bees are longer there to tend the hive all of the honey will melt out and can cause damage to your home or business. These damages could be stained/ruined drywall, stained stucco, staining of siding, damage to electrical wiring, damage to framing/wood, etc. Not doing a proper bee hive removal can also lead other common household pests to the formerly infested area to feast on the old portions of the bee hive left behind. Choosing to do a bee extermination may be slightly cheaper up front but in the long run can cause you more head ache than it is worth.
Solana Beach Bee Removal Repairs
After the beehive removal process has been completed it may be necessary to do repair work to the structure. Often times honey bees will find their way into attics, walls, floor boards, sheds, etc. To completely remove all of the bee hive and honey comb it is common for us to cut into the roof, siding, drywall, etc. D-Tek Live Bee Removal includes with every price any repair work that may be needed to the structure. D-Tek Live Bee Removal also guarantees any roof, stucco, siding repairs to be free of defects and leak free. All drywall repairs performed by D-Tek Live Bee Removal are guaranteed to be free of defects and to blend seamlessly with the surrounding area.
D-Tek Live Bee Removal is fully insured. We also offer free estimates and inspections for all residents of Solana Beach. At the time of inspection we offer a copy of our insurance to all our potential clients.
Bee Control Services Solana Beach
After the live bee removal has been completed and all associated bee removal repairs are done it is time to bee proof the area. We also refer to this as our bee control service. We will inspect the area that the honey bee infestation occurred and seal up any holes, cracks, crevices, or vents as needed. We do this in a 10 foot radius around the original bee hive entry and exit point. This area is then covered under a guarantee by D-Tek Live Bee Removal.
We also offer whole home or business bee control services in Solana Beach. One of our technicians will inspect your entire home or business and identify any trouble spots where bees can enter. Then using a variety of different techniques will seal up any entry and exit points.
We Drop Off Bees to a Local San Diego Beekeeper
The last step in the live bee removal process is the dropping of the honey bees to a local beekeeper in San Diego. For bee removals in Solana Beach the preferred drop off location is to a beekeeper in Encinitas. If the Encinitas beekeeper is not available for drop off we will drive the honey bees to a beekeeper in Temecula CA. The Temecula beekeeper is located in the wine country area. Both beekeepers utilize the honey bees for pollination and research.
Contact The Solana Beach Bee Removal Experts
If you are tired of having a bee problem in Solana Beach give the experts at D-Tek Live Bee Removal a call today! Our direct line is 760-224-3040. You can also contact us by filling out the quick contact form on this website. We will get back to you as soon as possible. In most cases we have fast same day service to Solana Beach residents. Call today!