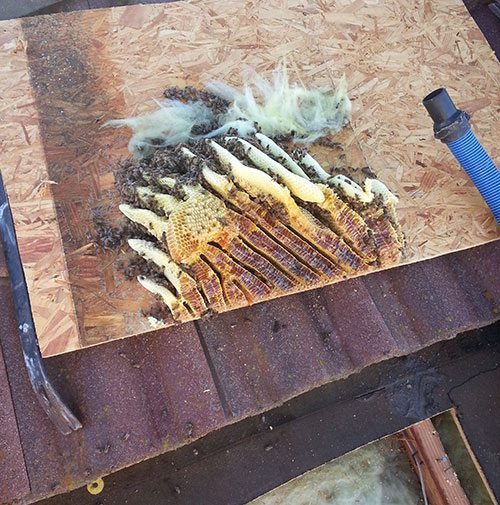 If you live in Cardiff or the surrounding San Diego area and have a honey bee problem on your hands, don't try to solve it on your own. Instead, call in the experts in live bee removal at D-Tek Live Bee Removal. For over 15 years, we have been the go-to provider of safe and humane bee removal services for Cardiff homes and businesses. Our technicians have the skills, experience and knowledge you need to rid your property of a honey bee swarm or hive. 
Not only do we specialize in bee removal, but our team can professionally repair damage to your home resulting from a bee infestation or removal. And to give you the peace of mind you deserve, we guarantee our bee proofing services so you won't have to worry about bees coming back to the same place in the future. 
At D-Tek Live Bee Removal, we care about the conservation of the honey bee population. When you schedule a bee removal with our expert team, you can feel confident that you are doing your part to protect and preserve honey bees. Why? 
Cardiff Live Bee Removal Services
Nestled perfectly in the city of Encinitas, Cardiff-by-the-Sea is a quaint beachside area with a population of fewer than 12,000 people. Locals and visitors spend days walking, exploring the unique shops and art scene, and hitting the open sandy beaches in the breathtaking cliffs while catching a wave. Although the breeze off the Pacific keeps bee activity to a minimum, off the coast, Cardiff has plenty of bee and wasp activity during the year. If you have a beehive, or increasing bee or wasp activity, do not try to spray or remove the wasp yourself. It is a dangerous job that should only be done by professionals. DTek Live Bee Removal has all the experience, equipment, and resources to safely remove a hive from residential, city, or business property.
The live bee removal process is different than your average pest removal service. Instead of using harmful chemicals, pesticides and techniques that can harm or kill bees, we take great measures to ensure that the bees stay alive and well throughout the process. We do not use pesticides that can be harmful to the bees or to your family. Our special techniques utilize a vacuum system that gently removes bees alive from the area. 
After the removal, the honey bees are transported to a local beekeeper and rehomed at an apiary in the Cardiff area where they can live and pollinate. By using safe and humane practices such as these, we can do our part to preserve the declining honey bee populations and contribute to our local San Diego ecosystem. 
All Cardiff live bee removal services with D-Tek Live Bee Removal include: 
Live, humane removal of all honeybees

 

Complete removal of all honeycomb and beehive
Rehoming of the honeybees to a local apiary

 

Professional bee repairs to roof, stucco and drywall
Guaranteed bee repair and bee proofing services

 
#1 Live Bee Removal Cardiff San Diego
In addition to our humane removal practices, Cardiff customers appreciate that we are a local company who takes pride in giving the best customer service at the most affordable rates. We care about your satisfaction, which is why we offer certain things that our competitors can't: 
Guaranteed bee removal, bee repair and bee proofing services
Fast and friendly service – often same-day
Free consultations and quotes
Transparent pricing structures

 

Hundreds of glowing reviews from your Cardiff neighbors
At D-Tek Live Bee Removal, we understand that a bee infestation in your home or business can be scary, dangerous and frustrating. We make the process easy from start to finish. If you have a nasty bee hive or swarm at your Cardiff home, contact our bee removal specialists today at 760-224-3040. Our team can dispatch a qualified technician to your property right away to assess your bee situation and give you a fair and accurate quote for service. 
Get help with your beehive or bee swarm removal!
Call Today 760-224-3040 Or 951-265-8292!
Cardiff Bee Removal Repairs
Have honey bees destroyed your walls? Do you suspect that there are thousands of bees living in your attic? Are you concerned that your children might encounter your resident honey bee colony while playing in the yard?
There is no need to worry when you call the professionals in Cardiff bee removal and repairs. At D-Tek Live Bee Removal, we specialize in bee removal and repairs, giving you the peace of mind you need to enjoy your home. Honey bees are known for their ability to build large, complex hives inside walls, attics and other structures. These hives can grow to massive sizes, busting out your walls, destroying electrical and exploding plumbing.
Don't let a small bee issue become a huge bee problem! At the first sign of a bee infestation in your Cardiff home, call D-Tek Live Bee Removal. Our experts will remove the necessary parts of your structure to ensure that they can fully access the bees and honeycomb. After a complete removal, they will professionally repair any damage done so your home is as good as new.
D-Tek Live Bee Removal Cardiff San Diego
When you have a bee infestation, make the call to D-Tek Live Bee Removal. Serving Cardiff and the surrounding San Diego area, we specialize in live, humane bee removal and bee removal repairs.