Do you have a Poway bee removal job that needs to be resolved?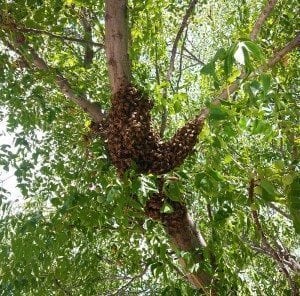 Give D-Tek Live Bee Removal a call today and get your bee problem taken care of in no time. We specialize in the humane live removal of honey bees. We are a local Poway bee removal company based out of North County San Diego. We utilize a state of the art vacuum system to safely remove honey bees from your Poway home or business. After the live bee removal has been completed we then drop off the honey bees to a San Diego beekeeper.
Every bee removal in Poway that we perform includes all of the following
Complete removal of all beehive and honey comb
Live bee removal
Any bee removal repair work that may be needed to your home or business
Dropping off honey bees to a local beekeeper in San Diego
Guarantee of all bee removal repair work
Bee proofing and bee control services
Guarantee honey bees will not return to same area
By choosing D-Tek Live Bee Removal to take care of your bee removal issues you can be assured your bee problem in Poway will be taken care of quickly and professionally. We do a very thorough job in each of the above-mentioned steps. There is no shortage of bee removal companies that will show up to your door and simply exterminate the honey bees and not remove the beehive and honeycomb. More often than not this will lead to recurring bee problems in the future. Bees have an excellent sense of smell. Any bee hive and honeycomb left inside the structure of your home or business will attract bees back for years to come. Another problem with leaving the bee hive and honey comb inside the structure is that when the bees are no longer around to tend the hive all of the honey will melt out and can cause damage to drywall, stucco, electrical wiring, wood framing, siding, etc. Not doing a proper bee hive removal will more often than not lead to other common household pests showing up to grab a quick bite to eat from the left over bee hive. These will commonly include ants, mice, rats, etc.
Bee Removal Repairs Poway
After the beehive removal portion of the work is complete it is time to perform any bee removal repairs that may be necessary. We don't always have to perform repair work on the structure. For instance when dealing with bee swarms on trees, bee swarms in irrigation boxes, bee removal from a BBQ it will obviously not be necessary to perform any bee removal repairs. However, in many cases, honey bees will build a beehive in an attic, shed, wall, floorboards, etc. In these cases we usually have to cut into the roof, stucco, siding, drywall, etc to fully remove all of the honeycomb. D-Tek Live Bee Removal stands behind all of our bee removal repairs. Any roof, stucco, or siding repair is guaranteed to be free of defects and leak-free. All drywall repairs are guaranteed to be free of defects and to blend seamlessly with the surrounding area.
D-Tek Live Bee Removal is fully insured. We give each customer a copy of our insurance at the time of inspections. D-Tek Live Bee Removal also offers free estimates and inspections for all your bee problems in Poway.
Bee Control Services Poway
After the live bee removal and associated bee removal repairs have been completed it is time to start the bee proofing process. This is also referred to as our bee control service. One of our expert technicians will seal up the original entry and exit points to the formerly infested area. We will also bee proof the area within a 10 foot radius of the original entry and exit points.
D-Tek Live Bee Removal also offers whole house or business bee control services. We will go over your Poway home or business inch by inch finding every vent, crack , crevice to make sure you are bee free for good!
San Diego Beekeeper
D-Tek Live Bee Removal utilizes many different beekeepers in San Diego. For live bee removal services in Poway the preferred drop off spot is to a beekeeper in Encinitas. If the Encinitas beekeeper is unavailable we will drop them off to a beekeeper in Temecula. The Temecula beekeeper is located in the wine country. All of our professional beekeepers we drop our honey bees off to use them for pollination and scientific research.
Contact Your Poway Bee Removal Professionals
Don't waste any more time. Call the bee removal professionals at D-Tek Live Bee Removal today! Our direct line is 760-224-3040. Or fill out our quick contact form on this website. We will get back in touch with you ASAP to get your bee control issues in Poway solved for good. Call today!