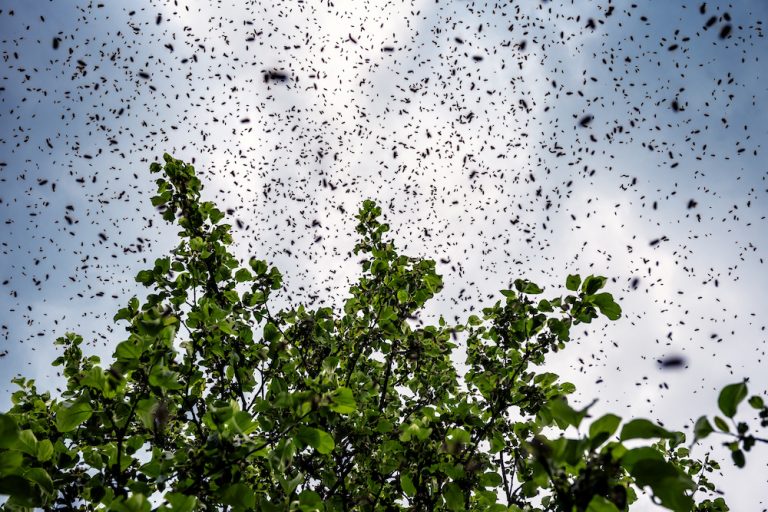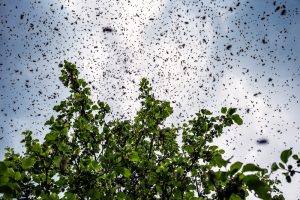 Poway is home to Potato Chip Rock, among other things. Poway offers many opportunities to be outdoors, including trails and parks. Many outdoor areas ideal for people also have a strong possibility of bee activity. Some bee activity is normal, but if increasing bee activity disrupts day-to-day activities, it should be addressed by a professional bee remover like D-Tek. Whether homeowners, event organizers, or businesses, clients in Poway rely on D-Tek because they have unmatched experience in live bee and beehive removal.
Poway residents rely on D-Tek Live Bee Removal for all of their honey bee removal, bee removal repairs and bee proofing services. For over 15 years, we have helped home and business owners handle their toughest bee infestations, from large swarms on their properties to nasty hives in their walls. Whatever the problem, our expert technicians can help you rid your property of bees in a safe and humane manner.
Many of our customers wonder why they should choose us over the competition. The reason is because we offer the premier live bee removal services in the Poway area. Live bee removal is the only safe and humane way to remove bees from your property without harming them in any way. With our specialized vacuum system, we can remove the bees and safely transport them to our local apiary where they can continue to pollinate San Diego area crops. 
Contact the Poway bee removal professionals at D-Tek Live Bee Removal today at 760-224-3040. We are standing by to help you assess your bee problem and provide you with a fair quote for services. 
All of our live bee removals include the following services, so you can rest assured that you are getting the best service available at the most affordable rates. 
Live, humane removal of all honeybees

 

Complete removal of all honeycomb and beehive
Rehoming of the honeybees to a local apiary

 

Professional bee repairs to roof, stucco and drywall
Guaranteed bee repair and bee proofing services
Superior Poway Bee Removal Services
Honey bees play an important role in our ecosystem. Without their hard work and pollination efforts, much of the food we enjoy today would not exist. You have probably heard that we need to take care to protect honey bees, but what do you do if you have a honey bee infestation that is causing trouble for your family or business? 
The answer is live bee removal. Your typical pest control company will use harmful chemicals to solve your bee problem, killing all the bees in the process. Live bee removal, on the other hand, uses superior techniques to ensure that the bees are removed safely, humanely and alive from your property. By choosing a company that specializes in live bee removal, you are doing your part to protect these precious species from further decline. 
In addition to the best live bee removal services in the area, D-Tek Live Bee Removal provides a wide range of services to meet all of your needs. 
Bee Removal Repairs
Bees have a way of building their nests in hard-to-reach places in your attic, walls or other parts of your structure. And they can certainly do a lot of damage to your drywall, siding or roofing in the process! When you hire D-Tek Live Bee Removal to handle your bee infestation, you are getting much more than removal experts. Our team has extensive experience in the home repair and construction industries. We are able to make all the necessary repairs to your home or building after a removal service so you can feel confident that your structure is safe and sound. 
Get help with your beehive or bee swarm removal!
Call Today 760-224-3040 Or 951-265-8292!
Bee Proofing Poway
After an infestation, you want peace of mind knowing that you won't have to deal with another infestation down the road. Our technician will take the necessary measures to bee proof the area by removing all remnants of the honeycomb from the previous colony. We will also use a non-toxic sealant to close any seams, holes, cracks or crevices where bees can gain easy access to your home or business. With D-Tek Live Bee Removal, you can feel confident that your bee problems are solved!
#1 Rated Bee Removal Company Poway
When you need the most effective bee removal services in Poway, there is only one company to call. D-Tek Live Bee Removal is the leading provider of live, humane bee removal in Poway and the surrounding San Diego area. Call our office today to set up your free inspection and quote. With us, you can feel good about choosing the humane way to remove bees.