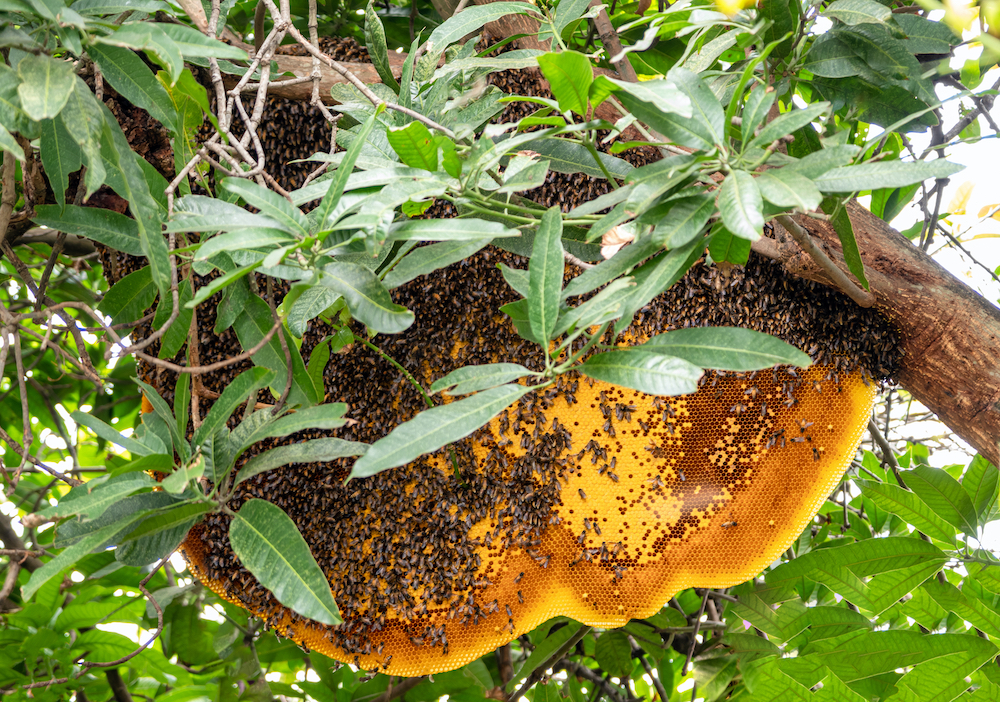 Residents in Laguna Woods enjoy all Orange County has to offer. As more than 90 percent of the city consists of gated retirement communities, those who live in Laguna Woods and those who visit see beautifully landscaped golf courses, bustling clubhouses, and a plethora of outdoor events and activities. In such a perfect climate year-round, few things can disrupt this peaceful lifestyle. One thing that residential communities, hotels, and small businesses in Laguna Woods must consider is unwanted and potentially hazardous beehives.
Remove These Bees, D-Tek!
When you face a bee problem, D-Tek's owner takes every call and dispatches a qualified technician to come out the same day. There is an urgency when bees threaten people and pets in Laguna Woods, and only D-Tek will get someone out immediately! You can call the owner directly at 760-224-3040. D-Tek offers free estimates and inspections for Laguna Woods' customers. There is no bee problem that D-Tek can't handle. D-Tek has worked with customers in Laguna Woods and surrounding areas for over a decade.
Residential Communities in Laguna Woods Need Bee-Proofing
Common areas and individual homes in residential communities should be monitored and bee-proofed to prevent unwanted bee activity in the area. Trails and walking paths may go through areas of the property that have interested bees enough that they begin to build a hive. Sometimes, if bees are swarming, it can also be disruptive, and calling D-Tek means the bee problem is taken care of immediately and guaranteed.
D-Tek's Complete Bee Removal Service
Only one bee removal company guarantees its work and provides full-service - D-Tek Bee Removal. Full-service is the removal of live bees, beehives, and honeycombs and fixing any damage that occurred during the removal process. D-Tek will not cause unnecessary damage to a structure. However, D-Tek also emphasizes to Laguna Woods' customers that established hives may be in a location that requires the removal of a wall or other structure to ensure complete removal of the hive. Any trace left may result in returning bees. D-Tek will do the job excellently, and the bees will not return to that spot, and they guarantee it.
D-Tek is always honest with customers about what will be required to remove a hive and any honeycomb completely. Bees can smell any trace left behind and may aggressively try to get back to that spot if the removal is not done well. Additionally, just blocking access leaves the honeycomb to melt away and can cause damage to the property and attract other pests, like mice and cockroaches.
Bee Proofing Laguna Woods
Additionally, D-Tek technicians offer bee-proofing to ensure bees do not find another spot on the property or structure to build another hive. So, if you face a bee problem in Laguna Woods, or notice increased bee activity, do not hesitate and call D-Tek today for an estimate! Avoid the mistake of hiring a pest control company that will use poisonous products to kill the bees. In California, some species of bees are protected by law, so D-Tek's safe and humane approach to bee removal ensures bees find a new home with local beekeepers. D-Tek's long-standing relationships with local beekeepers all over Orange County continue to result in successful moves.
It is a win-win for Laguna Woods and the environment!
Laguna Woods' Top-Rated Bee Removal Service
Laguna Woods' location in beautiful Orange County means open space and warmer climates, which is inviting to bees. Although Laguna Woods is an area with many hives, once the beehive becomes a concern or poses a threat to people and pets, it must be removed as soon as possible. D-Tek works in hot weather and rain and has all the tools, equipment, and resources to do the best job possible. D-Tek is the top-rated bee removal company that serves Laguna Woods and other Orange County cities.
D-Tek's experience in the area and expertise in bees and their activity make them the best removal company for the job. Whether a beehive is inconveniently located in a tree on the property or deep in a wall or attic, D-Tek can get the beehive removed quickly, safely, and completely. Any damage will be repaired by the D-Tek technicians so that Laguna Woods' residents and businesses can rest easy when the job is complete.
Get help with your beehive or bee swarm removal!
Call Today 760-224-3040 Or 951-265-8292!
D-Tek Guarantees Top-Notch Service in Laguna Woods
If you live in a residential community, have a business in Laguna Woods, face a bee problem, or notice increased bee activity, please call today for an immediate response. When it comes to having a beehive removed, the sooner, the better. D-Tek's owner and technicians are standing by and are ready to help with questions and concerns about bees in the area.
When you need help with live bee removal, bee removal repairs or bee proofing services in Laguna Woods, call D-Tek Live Bee Removal at 760-224-3040. We are standing by to provide you with a free inspection and quote and can usually get to your property withing 24 hours.