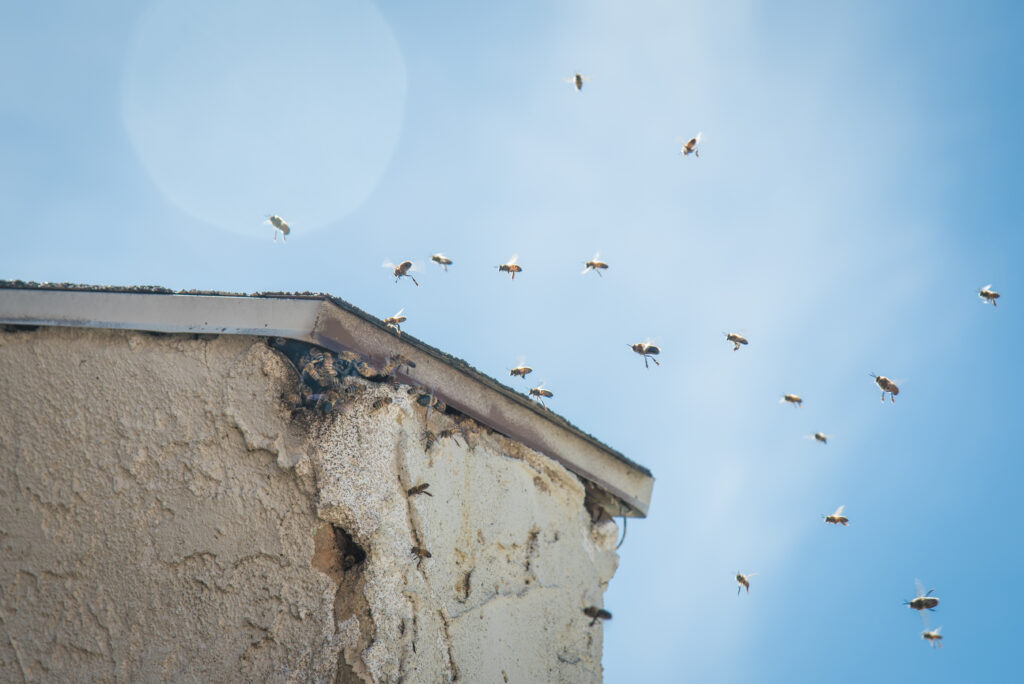 The planned community of Eastlake sits on the east side of Chula Vista, and its location near the pond offers bees warm weather and a continuous water source. Bees need heat where they build their hives, and they also need water to survive. If you reside in Eastlake and are experiencing increased bee activity or suspect a hive on your property, do not hesitate to contact the experts at D-Tek for an immediate response. You can call us for a free inspection and quote anytime at 760-244-3040.
Eastlake residents may encounter bees swarming, which is typical during the spring and summer months. However, when the swarm is on your property and makes accessing your home or going about your day challenging due to the risk of unwanted bee activity and hives, you only need to call Eastlake's most reliable bee removal company – contact D-Tek immediately for your bee problem. When keeping your family and pets safe is essential, you can rely on D-Tek to respond quickly, provide excellent service, and do complete hive removal and repairs on the same day! D-Tek has provided Eastlake with the best and most comprehensive bee removal services for over 17 years.
Bee Infestations Require the Expertise of D-Tek
If you suspect a bee infestation on your Eastlake property, you can count on D-Tek, the #1 professional bee removal company, to perform a free inspection and quote. When Eastlake customers work with D-Tek, we dispatch only the most skilled bee technicians, usually within 24 hours of your call. We are the only bee removal company that promises humane and safe removal of live bees, hives, and honeycombs. Since our bee technicians have extensive knowledge about bees and their behavior, D-Tek is the most qualified company to visit your Eastlake property.
D-Tek's bee experts have the best and safest equipment to remove live bees, rehome them to an apiary in the area, ensure complete removal of beehives and honeycombs, and do repairs immediately following the removal. D-Tek is the only bee removal company that guarantees the quality of repair work – that is why Eastlake continues to trust D-Tek to handle all their bee problems.
Call today if you have a bee infestation or suspect you may, 760-224-3040 or 951-265-8292. D-Tek can take care of it fast!
Eastlake Professional Bee Removal Services
When dealing with a swarm, please do not try to shoo the bees away on your own. Although swarming bees are typically less aggressive than bees protecting a hive, they can still become angry when provoked. Since people's safety is a top priority of D-Tek Bee Removal Company, let our experts come to your property and address any bee concerns you have.
D-Tek's Full Services:
Live bee removal and rehoming.
Complete hive and honeycomb removal.
Professional inspections and bee-proofing.
Only D-Tek provides excellence on every call when concerned about high bee activity and suspected hives on your Eastlake property. There are no more skilled and experienced bee technicians available in Eastlake.
Full-Service Bee Removal in Eastlake
When it comes to the most comprehensive bee removal company, D-Tek takes pride in knowing they consistently help Eastlake customers resolve their bee problems quickly and successfully. One call takes care of everything; we are always available to help!
Eastlake's Humane Live Bee Removal
Eastlake residents have peace of mind knowing that D-Tek's bee technicians are treating live bees humanely, unlike how most other pest control companies would treat them. Our bee technicians are fully equipped with proper equipment, and bees are removed alive using a vacuum system. Bees are transported to a local beekeeper with a relationship with D-Tek, who wants to welcome the bees. When using a regular pest control company, they may use toxic pesticides to kill bees but also risk getting to other pollinators, people, and pets. D-Tek works diligently with Eastlake customers to ensure bees are treated humanely while staying affordable.
Get help with your beehive or bee swarm removal!
Call Today 760-224-3040 Or 951-265-8292!
When You Need Bee Removal in Eastlake
Instead of trying to take care of a swarm of bees, knock down a hive, or ignore a suspected hive developing, leave it to the professionals at D-Tek. There is no reason to risk your, and your family's safety. Approaching a beehive can result in multiple stings without the correct equipment and knowledge, which can have serious consequences. D-Tek's experts can remove hives without any risk to Eastlake customers. Only a professional removal company can guarantee all remnants are removed and openings sealed so bees do not return to the same spot.
If you have a bee problem, concern, or infestation, call D-Tek Bee Removal Services today at 760-224-3040. There is no bee problem we can't solve! We understand the urgency, so we respond quickly and do our best to dispatch a bee technician within 24 hours. Don't let a small bee problem become a dangerous hazard! Call the only full-service bee removal company in Eastlake today.