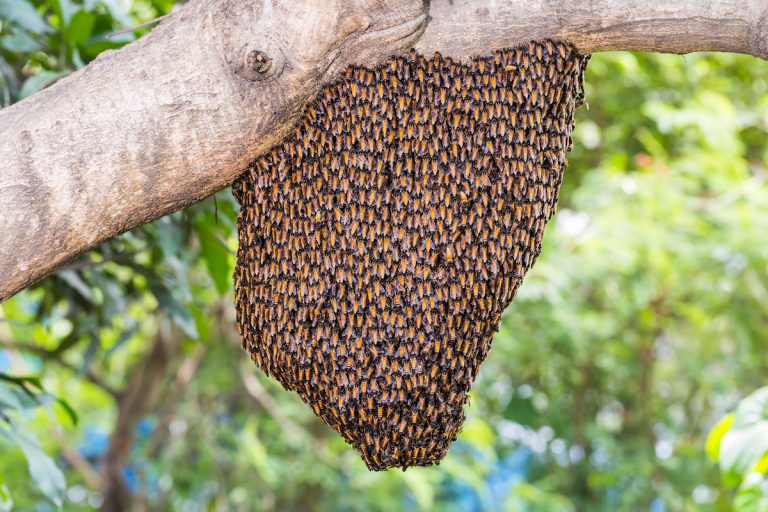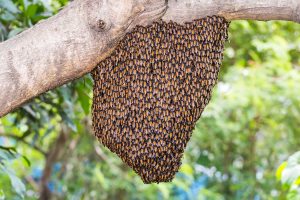 Honey bee infestations can wreak havoc on your home and put your family at risk of nasty bee stings. When you suspect a honey bee hive or swarm on your Bonsall property, call in the professionals at D-Tek Live Bee Removal. We are proud to be the leading provider of humane bee removal services in Bonsall and the surrounding San Diego area. With our state-of-the-art techniques and focus on honey bee conservation, our customers trust us to safely and completely remove their bees, all at an affordable rate. 
Bonsall Live Bee Removal
In 2017, when Bonsall suffered a devastating loss in the Lilac Fire, many had difficulty envisioning the charred areas flourishing in new growth. Once again, nature's amazing ability to regrow is revealed in Bonsall's beautiful landscape and thriving bee population. Although many local beekeepers are thrilled with healthy bee activity in the area, sometimes a hive or swarm is unwanted and dangerous. If you have a residential or business property in Bonsall and have a beehive that you want to be moved, please get in touch with DTek for the highest quality and professional beehive handling in San Diego.
AT D-Tek Live Bee Removal, we don't just remove bees. We also offer complete bee removal repair and bee proofing services to our Bonsall customers. When you call our specialists for your free consultation and quote, you can feel confident that you are in good hands. From start to finish, our bee removal services stand above the rest.
The live bee removal process is different than what your average pest control company can do. We never use harmful chemicals or pesticides that are dangerous to bees or to your family. Instead, we use a specialized vacuum system that carefully removes your bees while keeping them safe and alive. Your bees are then transported to a local San Diego area beekeeper where they will live, pollinate and thrive in their new home. By doing this, we ensure that we do our part in protecting our delicate honey bee populations. 
Bee Repairs Bonsall
Honey bees often build their homes in walls, sheds, garages and attics. As the colony grows, the bee hive expands which can bust out your drywall and damage your pipes and electric. Melting honey can seep into your walls and attract more bees, insects and rodents to the area. What a mess! 
During a bee removal, our technicians may need to remove parts of your structure in order to access the bees and the honeycomb. But no need to worry. Our team has more than 15 years of experience in home construction and repair, so we can expertly bring your home back to its original condition. We even guarantee our bee removal stucco, drywall and roofing work from leaks and defects, giving you the peace of mind you need. 
Get help with your beehive or bee swarm removal!
Call Today 760-224-3040 Or 951-265-8292!
Bonsall Bee Proofing Services
Less experienced bee removal companies can charge you an arm and a leg without ever solving your bee issue. At D-Tek Live Bee Removal, we understand bee biology and behavior, so we know how to solve your bee problem once and for all.
In every bee removal service we perform, our expert technicians will remove the honey bees, honeycomb and any traces of honey from the site and surrounding area. Why? Bees have an excellent sense of smell. If other bees pick up the scent of honeycomb, they will be attracted to that area, leaving you with another bee infestation in the future. After a complete removal, we will also take measures to bee proof the area by using safe, effective sealants to block all potential entrance points for bees. We can even provide comprehensive bee proofing services throughout your entire home, whether you've had a bee infestation or not!
With every Bonsall live bee removal service with D-Tek Live Bee Removal, our customers will receive:
Live, humane removal of all honeybees
Complete removal of all honeycomb and beehive
Rehoming of the honeybees to a local apiary
Professional bee repairs to roof, stucco and drywall
Guaranteed bee repair and bee proofing services
Best Bee Removal Services Bonsall San Diego
When you are looking for safe, humane and reliable bee removal services for your Bonsall home or property, do not hesitate to contact D-Tek Live Bee Removal. We have a reputation for providing the leading bee removal services in the area. With our top-notch customer service, humane practices, fast response time and affordable rates, you can't go wrong when you hire us to handle your pesky bee problem.
Call our office today at 760-224-3040 to set up your free consultation with our Bonsall bee removal professionals today.