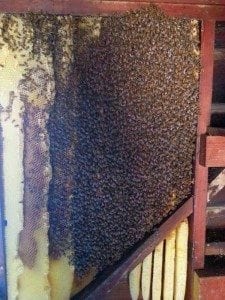 Pacific Beach, also known as PB by locals, is a popular spot for surfing and tourism. Remaining a popular neighborhood, locals and visitors spend most of their time enjoying the outdoors and beautiful weather in Pacific Beach. Part of enjoying the outdoors is making outdoor areas safe and free of beehives. Increased bee activity may mean a swarm, which is temporary, but it also may indicate a hive is being established. If a hive is established in an area where it is a hazard, it is best for the bees and people to have it safely relocated. Only D-Tek Bee Removal Services has experience working with home and business owners in Pacific Beach.
Do you have a bee infestation wreaking havoc in your Pacific Beach home or business? Are you concerned about the safety of your family or customers because of a hive or swarm on your property? 
If you have a bee problem in Pacific Beach or the surrounding San Diego area, your first call should be to the experts at D-Tek Live Bee Removal. We are the area specialists in live bee removal, bee removal repairs and bee proofing services. Proudly serving Pacific Beach residents for over 15 years, we have a reputation for excellence in customer service that far exceeds the competition.  
Pacific Beach customers choose D-Tek Live Bee Removal to handle their toughest bee infestations because of our safe and humane live bee removal techniques. We never use nasty pesticides that can harm or kill bees and pose a danger to your family. Instead, we use specialized removal techniques that ensure that the bees are removed alive and well from the premises so they can be rehomed with a local beekeeper. When you choose D-Tek Live Bee Removal for your bee services, you are doing your part to protect our valuable and delicate honey bee population and contribute to our world's food supply. 
Pacific Beach Live Bee Removal
Bee removal takes skill and specialized equipment to do the job safely and effectively. Inexperienced bee removal companies can cause even more headaches for the homeowners, from damaged property to half-done jobs that lead to more bee infestations in the future. 
At D-Tek Live Bee Removal, we use a special vacuum system that gently removes honey bees alive from your property. Throughout the removal, the bees are kept safe in preparation for their trip to their new home – a local San Diego apiary. There, the beekeeper will provide them with a place to thrive and pollinate so they can continue to play their role in our ecosystem. 
Our customers get much more than just bee removal when they hire D-Tek Live Bee Removal to rid their property of a bee infestation. All of our removal services include: 
Live, humane removal of all honeybees

 

Complete removal of all honeycomb and beehive
Rehoming of the honeybees to a local apiary

 

Professional bee repairs to roof, stucco and drywall
Guaranteed bee repair and bee proofing services

 
Get help with your beehive or bee swarm removal!
Call Today 760-224-3040 Or 951-265-8292!
Bee Proofing Services Pacific Beach
We care about ridding your home or business of bees so you can rest easy. In addition to safely removing the honey bees, we make sure to eliminate all signs of the previous infestation. Why? Because bees have an extraordinary sense of smell. They can detect the odor of honey and honeycomb from an old infestation and be attracted to the same area.
With D-Tek Live Bee Removal, you can rest assured that our expert technicians will remove all of the honey and honeycomb to deter more bees from coming to the same area. We also use a non-toxic sealant to close up any cracks, seams or holes that can be potential access points for bees and other critters.
Contact D-Tek Live Bee Removal - Pacific Beach Bee Removal
Bee removal is a job that must be handled by the professionals. When you have a frustrating bee hive, swarm or other bee problem on your Pacific Beach property, there is only one company to call.
D-Tek Live Bee Removal is the leading provider of safe and humane bee removal in Pacific Beach and the surrounding San Diego communities. We care about keeping you and your family safe from bee attacks. With our full-range of bee services, you can feel confident that your bee issues will be resolved quickly, affordably and hassle-free.
Call our team today at 760-224-3040 to schedule an inspection and get a free quote. We pride ourselves on our fair and transparent pricing! We look forward to working with you to rid your Pacific Beach home or business of a bee infestation.