Bee Removal Services Fallbrook
Fallbrook Bee Control Services
Many of our customers in Fallbrook want live bee removal. This is the humane thing to do. The California honey bee population has taken quite a hit in the last 10 years with all the frequent pesticide use. All of our bee removals we perform are done without exterminating the bees. We have a state of the art vacuum system that we use to suck the bees up into a holding chamber. We then transfer the honey bees into a bee hive box and drop it off to one of our local San Diego beekeepers.
Every live bee removal in Fallbrook comes with the following bee removal services:
Complete removal of all honey comb/bee hive
Complete live removal of all honey bees
Any repair work that may be needed to your house or place of business
Guarantee of all repair work
Bee proofing of the area the bee hive was located
Guarantee the honey bees will not return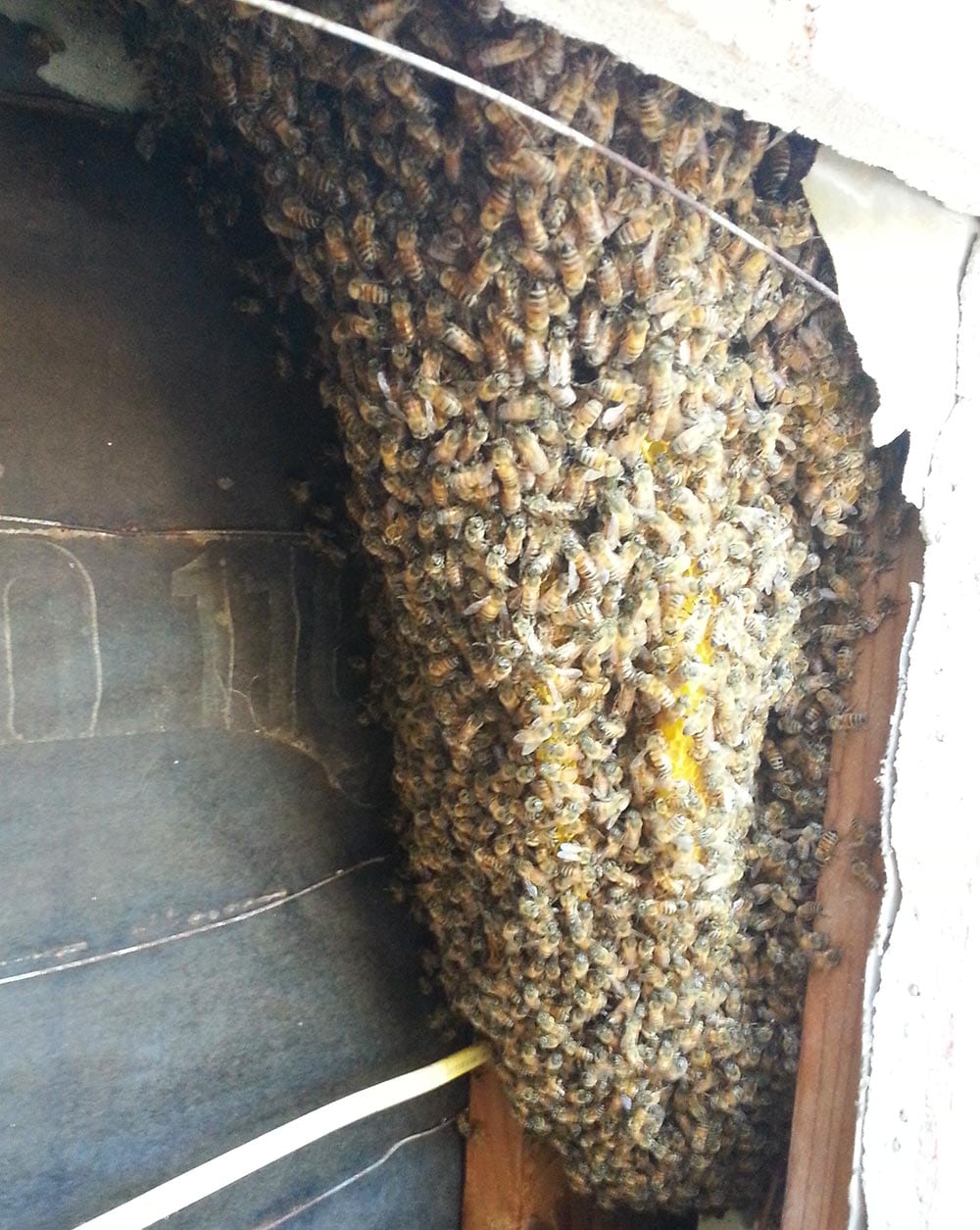 Each step of the bee removal process is important. We can't stress enough just how important the complete removal of all honey comb/bee hive is. Many other bee removal companies will come in and simply exterminate the honey bees leaving the honey comb and bee hive inside of the structure. Once the honey bees are not alive and able to tend the bee hive all of the honey will melt out and can cause thousands of dollars in property damage. Honey bees also have an excellent sense of smell. Leaving a bee hive inside of a structure will attract other bee swarms back to that same area for years to come. This is why we stress the importance of doing complete bee removal services the correct way the first time. It is more expensive than honey bee extermination but will save you money in the long run guaranteed!
Bee Removal Repairs
Another important aspect of the bee removal process is the repair work. The most common types of repair work we perform are roof repair, stucco repair, and drywall repair. All repair work performed by D-Tek Live Bee Removal is guaranteed to be free from any defects and if it is a roof or stucco repair is guaranteed not to leak. Our drywall repairs we guarantee the texture will blend seamlessly with the surrounding area.
Bee Control Fallbrook
Our bee control service is second to none! After each completed bee removal it is necessary to bee proof the infested area so that bees can't reenter and build another bee hive. This is what we in the industry call bee control. Every live bee removal we perform comes with bee control service. We bee proof in a 10 foot radius around the area that the honey bees were entering/exiting from.
D-Tek Live Bee Removal also offers whole house bee control services. We will go over every vent, every crack, and make sure your house is bee proofed for good! We also guarantee our bee control services so that if you do have a bee problem we come out free of charge and remove the honey bees and relocate them to one of our beekeepers.
Our Local San Diego Beekeeper
With all the honey bees we save doing live bee removal in Fallbrook we have to drop them off somewhere! We partner with many local San Diego beekeepers where our honey bees are dropped off. When doing live bee removal in Fallbrook our most common beekeeper we bring out honey bees to is located in Temecula wine country. Our secondary drop off location is to a beekeeper located in Encinitas Ca. The beekeeper at this location uses the bees to pollinate crops as well as using them for scientific research.
Contact The Fallbrook Bee Removal Experts
If you want your bee removal problem solved permanently give D-Tek Live Bee Removal a call today! Our direct line is 760-224-3040. Don't feel like calling? Simply fill out our bee removal contact form and we will be in contact with you ASAP regarding your bee removal problem.