Live Bee Removal Services in Vista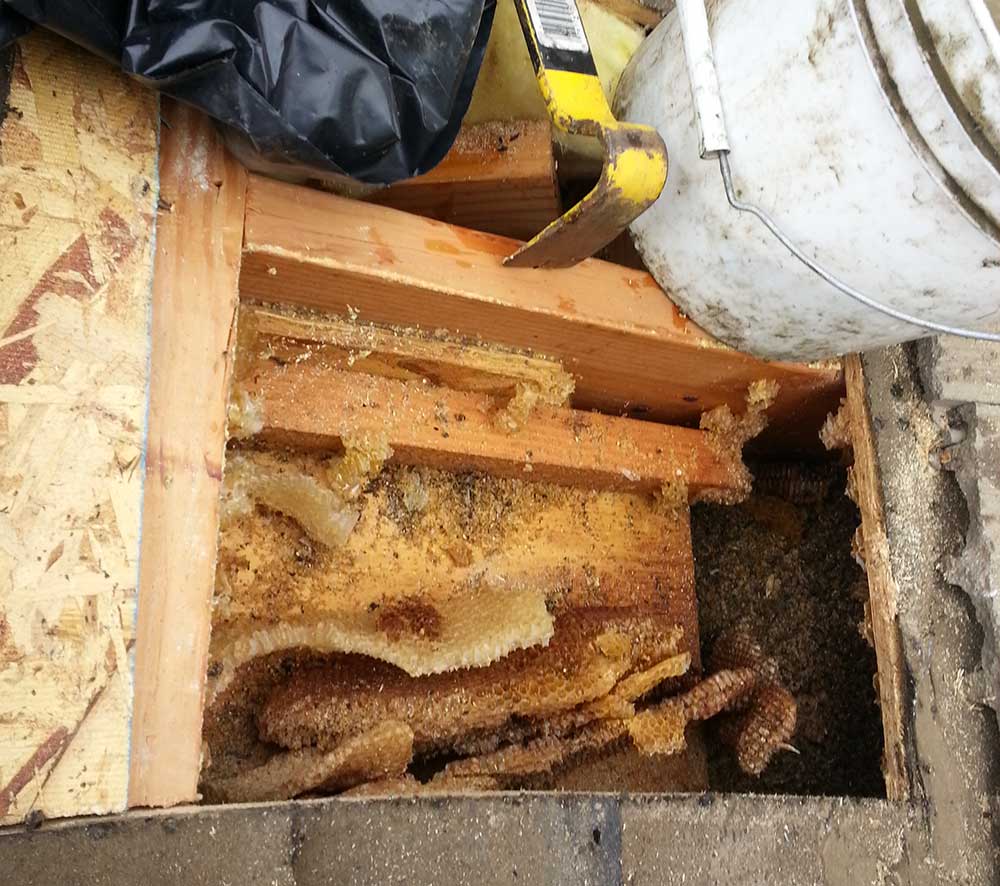 The professionals at D-Tek Live Bee Removal are proud to offer bee removal services and bee control services to the city of Vista in San Diego County. Whether you are dealing with a beehive removal problem for the first time or are dealing with a recurring bee infestation, D-Tek Live Bee Removal can help!
We perform many bee removal services in the city of Vista each year. Honey bees can take up residence in numerous areas of your home, yard or Vista Property. The most common areas for Vista bee removal are:
Beehives in your roof or attic are quite common in Vista
Beehive in a sprinkler or irrigation box
Bee swarm in a tree, which may move on and not require removal
Beehives are often built into walls
Honeycomb / Beehive found in the floor of a shed
What about the beehive in the chimney of your fireplace?
You will also find beehives in boats and RV's that are stored
The previous list of targeted areas by the bees are the most common places, however, they will build just about anywhere! It is important to remember that the sooner you get your beehive removal problem solved the better. The longer the honey bees are left in an area the larger the beehive will grow. If left alone a beehive can reach upwards of 100 pounds.
Beehive Removal Process
Our beehive removal method is very thorough. When you use D-Tek Live Bee Removal you will always get the following with your bee removal service:
Total removal of all honeycomb
Complete live removal of all honey bees
Any repair work that may be required to your house or place of business
Guarantee of all restoration work
Bee proofing of the area the beehive was found
Guarantee the honey bees will not return
When it comes to bee removal Vista, it is essential that all of the honeycomb be fully removed. Bees have an extraordinary sense of smell. Consequently, if any beehive is left behind during the bee removal process the essence of it will attract honey bees back to the same area for years to come. Many bee removal businesses will simply come out and spray the bees with a pesticide and leave the beehive in your home or property structure. The danger in doing this is that when the honey bees are no longer around to manage the beehive the honey will start to melt out and will damage the drywall, stucco, framing, etc. It is much more costly to do a bee removal the correct way by extracting all of the beehive and honeycomb, but in the long run it will save you time and money.
Not only are our technicians experts at removing honey bees, but in addition, they are masters at performing any repairs that may be needed to your house or place of business. The most common types of repairs we perform are roof repair, stucco repair, and drywall repair. Did you know that our stucco and roof repairs are guaranteed to be leak free? That's right, guaranteed! In addition, our drywall repairs are warranted to blend seamlessly with the surrounding area so you won't even know our honey-making friends were there.
Bee Control Vista CA
At D-Tek Live Bee Removal we include bee proofing with each bee removal we perform. We in the bee removal industry call this bee control. For instance, after all of the beehive has been removed it is necessary to bee proof the formerly infested area so that the honey bees can't re-enter and build a new beehive. After that, we perform our bee control service in a 10 foot radius from the main entry/exit point of the old hive.
D-Tek Live Bee Removal also offers whole-home bee control services in Vista. Let us come in and bee proof your home or business so you don't have to worry about honey bees building a beehive ever again. We will go over every crack, crevice, and vent to make sure your bee removal worries are over with once and for all!
Contact The Bee Removal Experts
If you want to get your bee removal situation taken care of ASAP give our bee removal technician a call today! We have fast same day service. Our highly skilled technicians are experts in the art of bee removal. You are in good hands with D-Tek Live Bee Removal. Our direct line is 760-224-3040. Don't want to call? Simply fill out our bee removal contact form and we will be in contact with you ASAP regarding your bee removal problem.