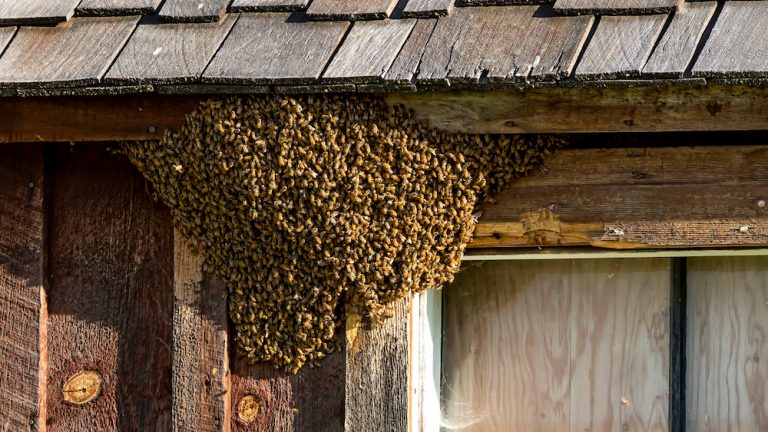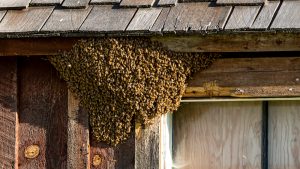 The beautiful city of Vista borders Carlsbad and San Marcos and is divided by the 78 freeway. This beautiful city is popular with families and businesses but expands to areas that allow for ranches and large open spaces. A significant part of Vista's appeal is how accessible it is, and without the high cost of coastal living, Vista residents still enjoy beautiful weather all year. When a beehive is found on a property, or a structure that needs to be removed, it is always best to have a qualified and trained bee removal company handle the removal. D-Tek is the highest-ranked live bee and beehive removal company in Vista.
Vista residents know who to call when they are facing an unwanted honey bee hive or swarm. D-Tek Live Bee Removal is the trusted partner for Vista homeowners and business owners who need their pesky bee problems solved quickly and affordably. With over 15 years of experience in the industry, our technicians are knowledgeable and can handle even the toughest infestations. 
D-Tek Live Bee Removal provides exceptional live bee removal, bee proofing and bee removal repair services in Vista and the surrounding communities. With live bee removal, we use only the safest and most humane techniques available, so you can rest assured that bees are never harmed in the process. Vista customers choose us because they know that the humane way is the only way to go when it comes to honey bee removal. 
Why Choose Vista Live Bee Removal?
Many people wonder why they should choose live bee removal over a traditional pest control company. The answer is simple. With your run-of-the-mill pest control company, they will use harmful chemicals to kill the bees and get out of there fast. They don't care about protecting our honey bee populations and the environment. 
With a live bee removal service, you are doing your part to protect honey bees and preserve the local ecosystem. Live bee removal does not use any harmful chemicals. We use a special vacuum system to gently remove the bees from the infestation area. Then, the bees are transported to our local San Diego area apiary where they will live with our resident beekeeper. Your bees will continue to forage and transfer pollen from flower to flower, thus pollinating your local plants and growing many of the foods you eat. 
Bee Removal Repairs Vista California
It's a fact that our technicians will have to remove parts of your structure from time to time in order to have access to the bees. Bees don't usually build their nests in convenient, easy to reach locations. By removing some of the drywall, roofing or stucco from your home or business, our team will be able to ensure that they remove every bee and all traces of honeycomb. And with our years of experience working in the home repair industry, our technicians can expertly return your home to its original condition. Our goal is to provide you with hassle-free bee removal and bee repairs, and we have the reputation to back it up! 
Why is it important to remove the honeycomb?
Less experienced bee removal companies will remove the bees and forget it. They don't realize that honeycomb left over after a removal service contains odors that will attract other bees to the area in the future. This will leave you with another potential infestation down the road. By choosing D-Tek Live Bee Removal, you can feel confident that your bee problems will be handled by experts who care about ridding your property of bees completely and safely. 
Get help with your beehive or bee swarm removal!
Call Today 760-224-3040 Or 951-265-8292!
Do you need Vista bee proofing services?
In addition to the number one rated live bee removal and bee removal repairs in Vista, D-Tek Live Bee Removal provides bee proofing with every removal service. Using a non-toxic sealant, we will seal up any openings that could provide easy access to bees down the road. If you have concerns that multiple areas of your home or business are vulnerable to bee infestations, we can also perform a full-property bee proofing examination, giving you the peace of mind you need.
D-Tek Live Bee Removal – Vista Bee Removal Experts
If you are in need of the best bee removal company in the Vista area, do not hesitate to call in the experts at D-Tek Live Bee Removal. We are standing by to take your call and schedule your free inspection. Call our office today at 760-224-3040.