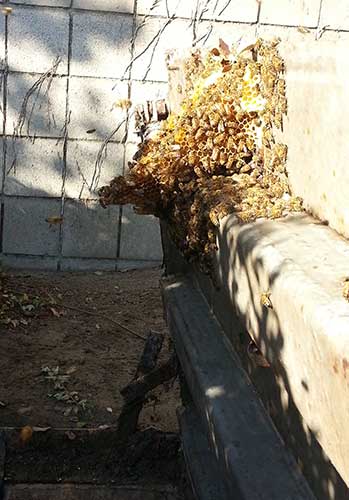 San Diego is adjacent to the Mexico-United States border and is home to the busiest airport using only one runway. Whether people are coming to visit or live, San Diego is known as one of the most beautiful parts of Southern California. San Diego has residential areas with a bustling metropolitan area and historical areas and sites riddled throughout. Since San Diego is an ideal spot for people, it is also popular for critters and pollinators. The climate is perfect for growing natural habitats, and bees like the area too. If you are concerned about a beehive on your property or in a public space, and think it is a risk to people or pets, contact D-Tek for a fast response and top-notch bee removal services.
When property owners in San Diego need the best bee removal service in the county, they call the professionals at D-Tek Live Bee Removal. We have been the leading provider of safe and humane live bee removal services in the San Diego area for over 15 years. Our knowledgeable technicians will remove your most frustrating bee infestation, no matter how large or small. With one call to our office, you will have your bee problems solved! 
Contact D-Tek Live Bee Removal at 760-224-3040 to set up your free inspection and get your fair quote.
Why hire professionals for San Diego bee removal?
Bee infestations are serious business and should be handled by highly skilled experts. The bee removal process is difficult and it can be very dangerous for someone without experience and the necessary equipment. At the first sign of a bee hive or swarm on your San Diego property, contact D-Tek Live Bee Removal. We specialize in live bee removal techniques to rid your property of bees in a safe and humane manner. 
The live bee removal process does not use any harsh chemicals or pesticides that kill bees and could harm you and your family. Instead, we use a unique vacuum system to gently draw the bees out of the area alive and well. Once removed from the infestation site, they are stored in a special container while they await the trip to their new home. 
You see, live bee removal is all about removing bees while conserving our delicate honey bee populations. After a removal service, the bees are carefully transported to our San Diego area apiary where they are rehomed. The honey bees are allowed to continue to pollinate local crops and contribute to the San Diego ecosystem. By choosing a live bee removal company over your typical pest control provider, you are contributing to the conservation of honey bees and our agricultural system. 
Get help with your beehive or bee swarm removal!
Call Today 760-224-3040 Or 951-265-8292!
San Diego Bee Repairs
It is not uncommon for your bee removal technicians to remove siding, roofing or drywall during a service. Honey bees have a tendency to build their nests in protected areas that are warm and safe from predators. Because of this, they can be hard to reach. And as you'll learn from our knowledgeable bee removal experts, a proper bee removal service does much more than just remove the live bees.
In addition to honey bee removal, your technicians will ensure that all remnants of the hive are removed from the area. Honey bees have a superior sense of smell. Any remaining honeycomb contains an odor that will attract other bees to the same location, meaning that you will have to deal with another infestation down the road. At D-Tek Live Bee Removal, our team of professionals will remove all signs of an infestation and perform any repairs required to return your home or business to its safe and sound condition.
We will also use a non-toxic sealant to close any holes, seams, cracks or crevices that could allow honey bees easy access to the area in the future. When you hire us, we go above and beyond to ensure that you don't have to worry about honey bees anytime soon.
Live Bee Removal Services San Diego
D-Tek Live Bee Removal is proud to serve customers in San Diego and the surrounding communities of Poway, San Marcos, Escondido, Oceanside, Carlsbad, Rancho Bernardo and Encinitas. When you have a honey bee hive or swarm at your San Diego home or business, do not wait to call in the experts to quickly remove your bees. Live bee removal is the only choice when you want effective bee removal that is safe and humane.
Contact our office today to set up a free inspection. One of our technicians will arrive at your property quickly and offer you a fair and accurate quote for services. Find out why D-Tek Live Bee Removal is the most trusted provider of live bee removal services in the San Diego area!