Full Service Bee Removal and Bee Control Company
D-Tek Live Bee Removal is a full service bee removal and bee control company. What makes us different from our competitors is that we only perform live bee removals. We never use pesticides to take care of your bee problem.
Humane Bee Control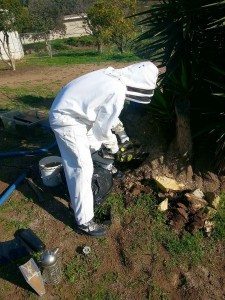 Bees are a critical part of our eco system. It's estimated that bees pollinate around 70 percent of our fruits, nuts, and vegetables. This is the reason why live removal is so important. Without them we would be in a lot of trouble! After every bee removal is complete we drop off the honey bees to a local beekeeper where they continue to do what they do best. Pollinate!  D-Tek Live Bee Removal has multiple beekeepers in San Diego County, Orange County, and Riverside County that we donate our honey bees to after every live bee removal.  By having a different bee keeper in each area we are able to greatly reduce the amount of time it takes to transport the honey bees to the bee keeper.  This helps reduce the chances of the honey bees dehydrating or even dying before we are able to drop them off to the bee keeper.
Bee Removal Repairs
During bee removal services often it is necessary to cut into the roof, stucco, siding, or drywall to completely remove all of the bee hive that the honey bees have built.  D-Tek Live Bee Removal performs any bee removal repair work that may be needed to the structure of your home or business as well.  With 12 years experience in live bee removal and 15 years experience in construction repair you can rest assured your bee problem will be taken care of in a caring and professional manner.  All of our work comes with a guarantee and we are fully insured.
Locally Owned and Operated San Diego Bee Removal Company
Headquarted in North San Diego County in the city of Vista, we provide bee removal services for all of Southern California, including Riverside, Temecula and Orange County.