Live Bee Removal Oceanside CA
Bee Removal Oceanside Specialists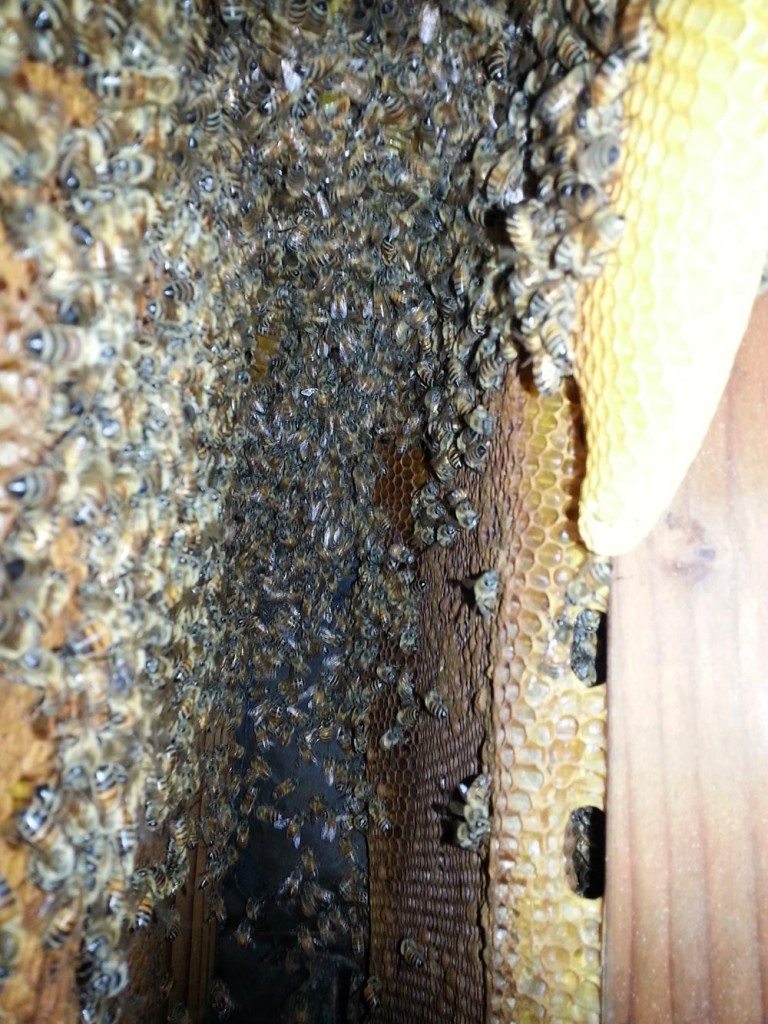 D-Tek Live Bee Removal is proud to offer our professional live bee removal services in Oceanside. We use a state of the art vacuum system designed specifically for live bee removal. With the current state of the honey bee population trending down, it is important that we perform only live bee removals. After we have removed all of the honey bees live we then drop them off to one of our local area beekeepers.
Every live bee removal we perform at D-Tek Live Bee Removal includes the following services
Complete removal of all bee hive/honey comb
Removal of all honey bees live
Any repair work that may be needed to the structure i.e. roof, stucco, drywall
Bee proofing and bee control service to the infested area the bee hive was located
Guarantee of all repair to be free of defects and leak free
Guarantee the honey bees will not return
Each of the bee removal steps listed above is very important. There are a few steps that are very critical. We always try to stress to our customers the importance of fully removing all of the bee hive from the structure. There are many bee removal companies that will come to your Oceanside house or place of business and simply exterminate the honey bees using pesticides and leave the bee hive in the structure. Bees have an excellent sense of smell. If an Oceanside bee hive is left in a structure it will attract other bee swarms for years to come. Once the honey bees are not around to tend the beehive the honey will melt out of the beehive and can ruin stucco, drywall, framing, etc. The left over bee hive and honeycomb will also attract other household pests such as ants, rats, mice, etc. This is why it's important to do bee removal correct the first time. Doing an extermination often times just puts a band-aid over the problem. Getting a full bee removal will save you money in the long run.
Bee Removal Repairs Oceanside
Another important part of bee removal is the bee removal repair work. The most common repairs we perform at D-Tek Live Bee Removal are roof, stucco, and drywall. All of our repairs are guaranteed to be free of defects. Our roof and stucco repairs are guaranteed not to leak. The drywall repairs are guaranteed to match seamlessly with the surrounding area.
Bee Control Oceanside
Our bee control service in Oceanside is every bit as good as our bee removal services. After the live bee removal has been completed and all the repair work performed we have to bee proof the entrance/exit of the area the original honey bee infestation occurred. We in the industry refer to this as bee control. Every live bee removal we perform comes with this service. We bee proof in a 10 foot radius around the original honey bee infestation site.
We also offer whole house bee control services in Oceanside. One of our professional bee removal technicians will go over every crack, crevice, vent, etc and make sure your Oceanside home or business is bee free for good! All bee control services come with a guarantee that they will not return.
We Support San Diego Beekeeping
With all the homes and businesses we perform live bee removal at each year in Oceanside we have to drop them off somewhere! For the Oceanside area we usually drop all of our honey bees off to a beekeeper in Encinitas Ca. He uses the honey bees for pollination as well for scientific research. We also have another beekeeper in Temecula that we drop our honey bees off to if the beekeeper in Encinitas is not available. The Temecula beekeeper is located in wine country. There is no shortage of places for the honey bees to pollinate there that is for sure!
Contact The Bee Removal Oceanside Professionals
Call Today 760-224-3040
If you live in Oceanside and want your bee problem solved once and for all give D-Tek Live Bee Removal a call today! The owners direct line is 760-224-3040. Call any time day or night regarding your bee problem. We offer free estimates and inspections. You can also fill out our Bee Removal Contact Form and we will be in contact with you ASAP regarding your bee removal in Oceanside.