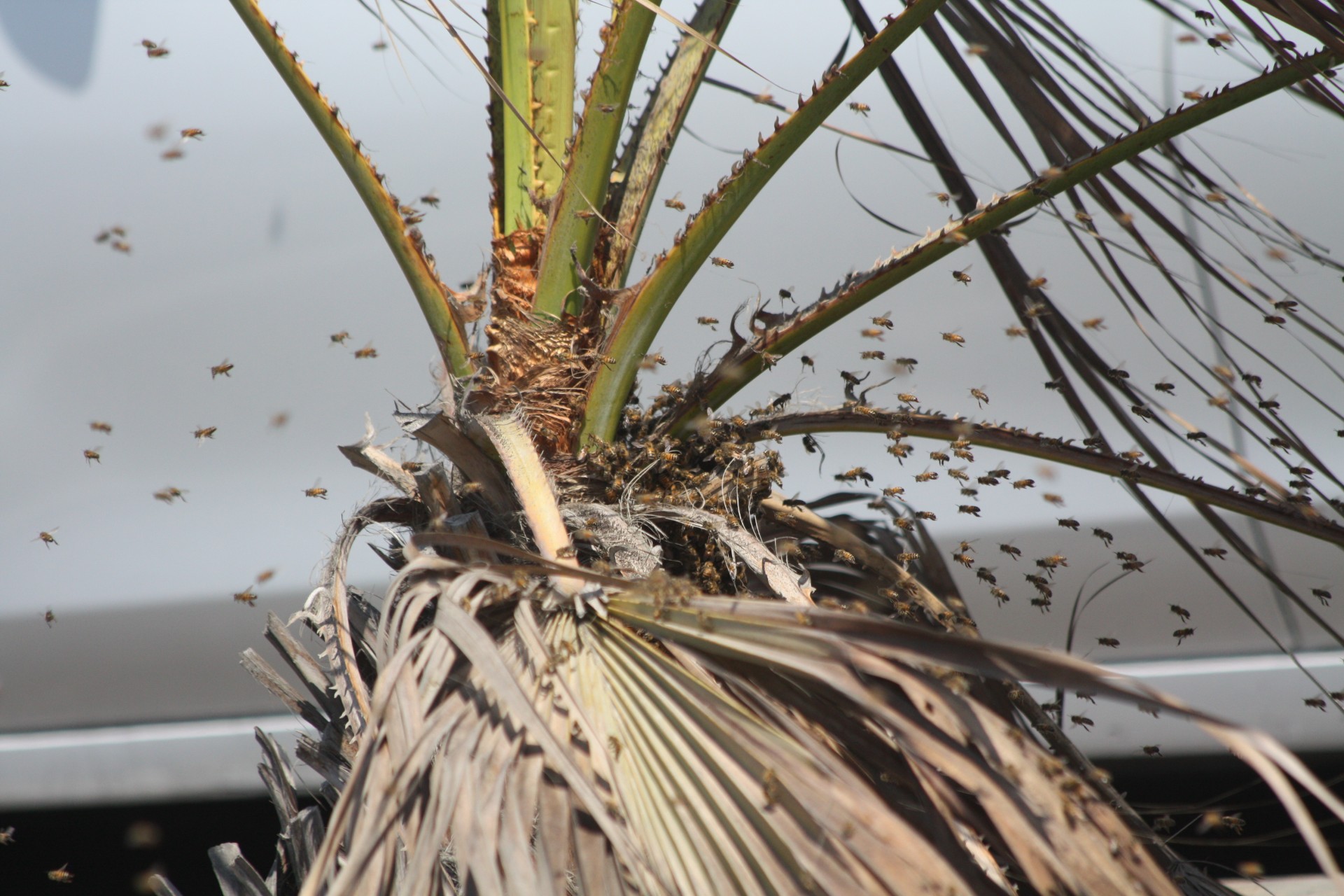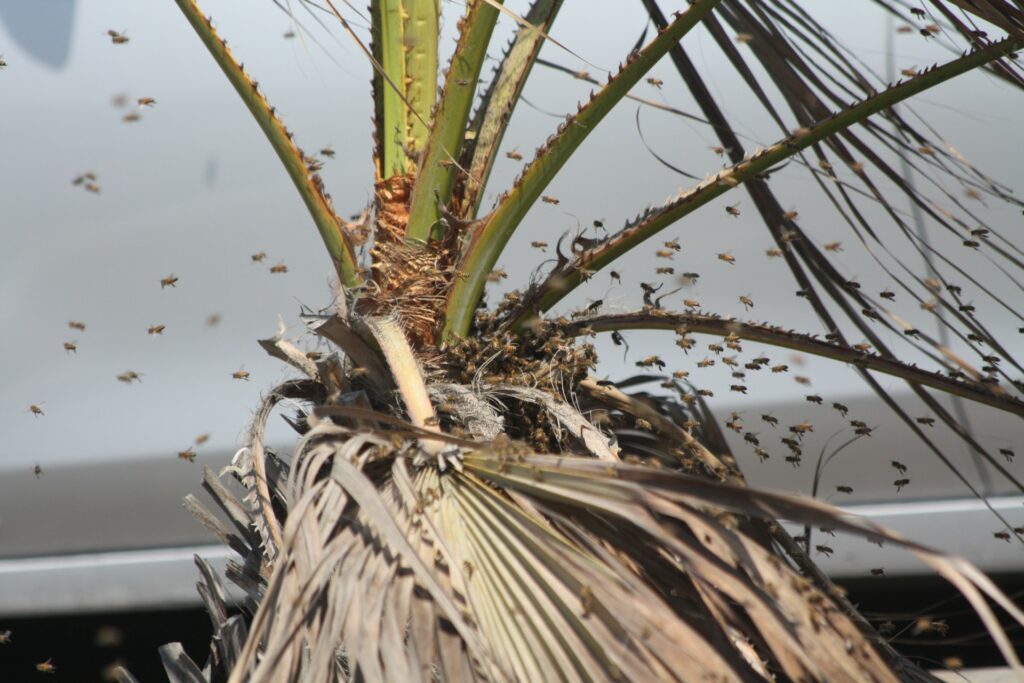 Mission Beach is uniquely located on the sandbar between Mission Bay and the Pacific Ocean. Part of San Diego County, Mission Beach offers beachfront properties, bike trails, tourist attractions, and a slower-paced community off the popular roads. If you live in Mission Beach or have a business here, you know that when spring and summer come, not only does human traffic increase but so does bee activity. These seasons are when bees look for new homes, and that may include swarming or inconvenient and dangerous beehive locations. Mission Beach residents and business owners look to the expertise of D-Tek Bee Removal Services anytime a bee concern occurs.
D-Tek is on call and available to dispatch within 24 hours to Mission Beach locations. The only full-service bee removal company, D-Tek offers humane live bee removal and guarantees removal and repair work. D-Tek only hires experienced and knowledgeable bee technicians who understand bee behavior and know where to look to find hidden hives and how to remove them entirely so bees do not come back and try to rebuild.
Mission Beach's Most Comprehensive Bee Removal Services Include:
Free assessment and estimate
Bee proofing
Fast and friendly service
Hive detection and removal
Humane live bee removal
Guaranteed repair work
D-Tek's attention to care and detail ensures Mission Beach customers only have to make one call – D-Tek gets the task done and stands behind their work. Many customers refer us to others in Mission Beach and surrounding areas. D-Tek's quality and consistency can't be beaten, and we lead the industry in excellent service.
Humane Live Bee Removal in Mission Beach
Beachside communities like Mission Beach are unique because they offer many sites and attractions for visitors, which means public areas must also be free of potentially dangerous bee activity. Beehives may go undetected, and having a D-Tek technician come to your facility to perform a free assessment ensures any potential hazards are addressed immediately, removing threats to people and pets and allowing life to go on as it should in Mission Beach.
D-Tek respects the declining bee populations, and in compliance with California's conservation laws and efforts, D-Tek promises humane bee removal and relocation. Only D-Tek has long-standing relationships with beekeepers and apiaries in the Mission Beach area. It is crucial for the environment to relocate live bees to the same region to help pollinators thrive.
A fully equipped technician ensures the safe removal, transport, and relocation of honeybees in Mission Beach so home and property owners know they are doing the best for the environment. Never try to shoo away bees, remove a hive yourself, or use a pest control company to remove hives because they are not necessarily invested in keeping bees alive as much as they are invested in making your problem go away at any cost.
As tourism and residents embrace the beauty and pace of Mission Beach, dealing with threats of bee infestations is critical to a safe and enjoyable summer.
Top Bee Removal Company in Mission Beach
Mission Beach customers support D-Tek because they are a local business and take pride in every bee removal. Understanding the urgency when a Mission Beach resident or property owner is faced with a bee problem is key, and D-Tek is always available to answer your call and can come out within 24 hours. When handling a bee concern, D-Tek takes care of everything thoroughly and guarantees their work.
Let D-Tek take the stress out of your bee concern. Unwanted bee activity, like swarming, or hives, can be scary and frustrating. From start to finish, D-Tek takes care of the problem, humanely removes the bees, finds them a new home, and does any repair work onsite the same day. Mission Beach customers are never left with poor, unfinished removal sites. Instead, D-Tek customers enjoy peace of mind, knowing their hive and honeycomb are entirely gone, and repair work is guaranteed.
Contact our bee removal specialist today for a free consultation visit and a transparent quote. Call 760-224-3040, and we can dispatch a qualified technician immediately and make your bee problem disappear.
Get help with your beehive or bee swarm removal!
Call Today 760-224-3040 Or 951-265-8292!
Mission Beach's Top Beehive Removal Repairs
When honeybees infest a structure, the damage can seem overwhelming. It is critical to remove a beehive entirely from the structure and all the honeycombs. No traces must be left behind, or bees may try to return to that location. In some cases, hive removal requires the removal of a wall to access the entire hive fully. Mission Beach customers should not worry because D-Tek guarantees complete removal and does any repair work on the day of removal, so there are no gaping holes in the wall or openings that may be unsettling. All D-Tek bee technicians are trained and can perform top-quality repair work.
Mission Beach residents want to enjoy the outdoors, and sometimes bees get in the way. In these cases, getting a professional bee removal company out immediately is critical to keeping people and pets safe. D-Tek is ready to go and can be onsite faster than any other bee removal company. Contact D-Tek today if you have a bee infestation or notice increasing bee activity near your Mission Beach property.