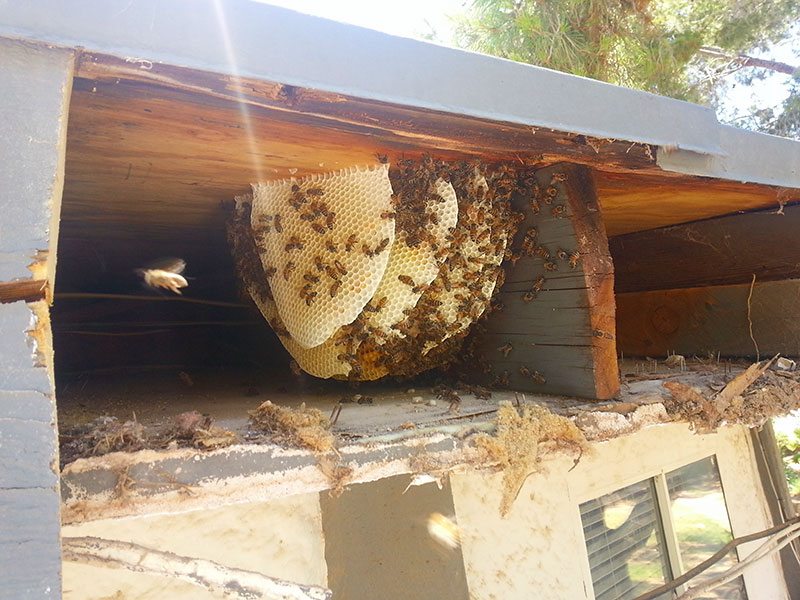 San Juan Capistrano is one of the unique cities in Orange County. The railway runs through the city and is used by locals and visitors year-round. With a petting zoo and the breathtaking San Juan Capistrano mission amidst a quaint yet upcoming art district, San Juan Capistrano continues to draw locals as much as out-of-towners. The sparrow migration brings people from all over the world, and the appreciation for the natural setting in San Juan Capistrano, with its rich historical relevance, keeps residents and businesses on their toes when it comes to ensuring the outdoors is a safe place for everyone. Bees have plenty of water and pollen sources in San Juan Capistrano. Although people enjoy continual pollinator activity and the blooms produced by such an accessible area, when a beehive is in a location that disrupts the flow of San Juan Capistrano life, residents and businesses call on the professional services of D-Tek. Unmatched in offering complete bee removal services, D-Tek is unmatched in quality and response time and guarantees its hive removals.
Complete Bee Removal Services for San Juan Capistrano Residents and Businesses
San Juan Capistrano has an active outdoor lifestyle, and ensuring people's safety and enjoyment is a high priority. Although most people who live in San Juan Capistrano happily leave pollinators to do their thing, when a hive ends up in a wall, an attic, or a location requiring access, only professionals can take care of the problem immediately. D-Tek can dispatch a bee removal technician on the same day who will do an assessment, offer an accurate quote, and do the job quickly and thoroughly.
Some pest control services use toxic pesticides to deal with a range of pests, but only D-Tek handles bee problems exclusively. D-Tek is on call to help keep San Juan Capistrano to keep outdoors free from dangerously located hives. D-Tek technicians are trained to safely and humanely handle bee concerns for all Orange County residents and businesses.
Call D-Tek to Address Increased Bee Activity
Call D-Tek if you notice unusual or increased bee activity around your home, business, or a publicly accessed area. Increased bee activity may be due to swarming, but it may also indicate bees establishing a new hive. It is critical to address this activity so that hives do not grow too large. Once a hive is well-established, it may require the removal of a portion of a wall of another structure to remove the hive entirely.
D-Tek Offers Full-Service Bee Removal in San Juan Capistrano
D-Tek prides itself on the expertise of removing all hive debris and any honeycomb. If a hive is not entirely removed, and honeycomb remains – even a little - bees will return to that spot. D-Tek technicians are upfront and honest with San Juan Capistrano customers and are always happy to explain the process and timeline to complete the work. D-Tek is the only bee removal company with technicians trained in construction who can complete the job on the same day and allow residents and businesses to return to normal as soon as possible. D-Tek is the top-rated bee removal repair company in Orange County.
D-Tek Provides Bee-Proofing Services
Most people in San Juan Capistrano only think about bee-proofing once they must. However, Southern California has experienced some incredible rainfall recently, and pollinator activity is expected to rise. Although this is excellent news for the environment, it likely means increased beehive establishment. Cities like San Juan Capistrano will need the professional services of a bee removal company like D-Tek. Only D-Tek can completely remove a hive, relocate the bees locally, and ensure any vulnerable spots on the property are addressed to keep bees from building hives there. Bees only need a tiny hole to begin building a hive, and once the word is out to the queen and other bees, it does not take long to have a live and active hive in a location.
D-Tek Can Remove Any Hive Anywhere
D-Tek has years of experience and has the best technicians in the industry. Additionally, D-Tek's reputation with local beekeepers provides multiple ways to relocate bees to a safe new location. Using a regular pest control service will do more harm than good, so call a bee company if you face a bee problem. Call D-Tek today, and do not wait. Waiting allows hives to grow larger and become harder to remove. Although there is no beehive that D-Tek can't remove, a large established hive may require removing some of the structure to have complete access to the hive and any honeycomb.
Get help with your beehive or bee swarm removal!
Call Today 760-224-3040 Or 951-265-8292!
Best San Juan Capistrano Bee Removal Services
If you live or work in San Juan Capistrano and have a bee problem or questions about increased bee activity in your area, please do not hesitate and call D-Tek today – they can help with all your needs and get the job done right the first time—no better live bee or bee removal company services San Juan Capistrano.
If you have an unwanted beehive or swarm on your San Juan Capistrano property, do not attempt to remove the bees on your own. Instead, call in the professionals at D-Tek Live Bee Removal to handle your bee problem quickly and at rates you can afford. We have been trusted by San Juan Capistrano residents and businesses for over 15 years to handle their most frustrating and frightening bee infestations.
When you need help with live bee removal, bee removal repairs or bee proofing services in San Juan Capistrano, call D-Tek Live Bee Removal at 760-224-3040. We are standing by to provide you with a free inspection and quote, and can usually get to your property withing 24 hours.