Beekeepers have the privilege of raising and caring for bees all over the world. Those close to beekeeping have more knowledge of the different uses of bee's by-products, having a personal account of the beeswax left after a honey harvest extraction process. Everyone, including beekeepers, may BEE pleasantly surprised at how many uses there are for this hexagonal honeycomb material that bees create! As we round the corner into the holidays, keep these uses of beeswax in mind, and it may just make your holiday sweeter!
How to Use Beeswax in Your Cooking Over the Holidays
One thing most people do not know outside the beekeeping arena is that beeswax is completely edible and safe to consume. Beeswax can be used as a replacement for cooking spray and adds flavor in the process. A famous French pastry, Caneles, is crunchy with a custard filling, and beeswax is used traditionally to help these delicious treats stay in their intricate shape. The qualities of beeswax make it very useful in keeping baked pans and cookie sheets buffed and ready to go for the next round in the oven. Using a clean cloth to rub beeswax preserves the integrity of the sheet or pan and leaves a layer of wax that allows you to bake without re-greasing the pan every use.
Uses of Beeswax for Shoes, Wood and Tools
You read it correctly: beeswax can be used on shoes. As the weather turns, with more rain and snow, beeswax is useful in water-proofing shoes and boots. It is best to have the shoes clean before applying beeswax. Then, apply beeswax to the shoes or boots and use heat (a blow dryer) to melt the beeswax. Excess beeswax residue can be wiped away with a clean cloth. It will amaze you how well it works!
Beeswax has long been used to polish furniture, wood, and wood kitchen items like chopping boards and salad bowls. Beeswax can be melted and used to seal cracks, add moisture, and protect wooden surfaces. The material can also be applied to squeaky drawers and doors! Beeswax is commonly used on garden tools to prevent rusting. Wipe excess through buffing, and your tools will be well protected this winter.
If you are hosting a holiday gathering this holiday season, using beeswax to create a homemade furniture polish is very effective and a fun story to tell! Creating homemade beeswax is a 1:3-part mixture of beeswax to a carrier oil like coconut or olive oil. Melting these together, applying the cooled wax mixture, and then buffing it off with a clean cloth will give you and your guests something to be excited about. The mixture removed dirt, grime, and residue, leaving your furniture glowing.
Beeswax in Your Beauty Routine
It is likely, not surprising that beeswax is used in many moisturizing beauty products. Beeswax can also be used in the hair to get rid of flyaways, and with the dry and cold season upon us, this can be a quick and easy way to keep your hair looking shiny – a little bit on your fingertips keeps hair sleek without being greasy.
Mixing beeswax with essential oils and jojoba can create a cool homemade pomade and body butter, which everyone's winter skin will be grateful for the dose of beeswax skin love. Body butter and other skin products also make great gifts! Lip balm is another easy skincare product that can be made from beeswax. Beeswax lip balm locks in moisture to those weather-worn lips. A popular one is peppermint oil mixed with shea and coconut oil.
Other Fun Beeswax Gifts for the Holidays
Beyond the fun skincare gifts possible with local beeswax, candles, and crayons can be a fun activity for you and your guests to create unique one-of-a-kind gifts. Making candles is a labor of love but a fun way to personalize and choose your scent and style of candle. Using lemon scent has the benefit of being a mosquito deterrent. Making crayons is a great family-friendly activity that involves melting beeswax with soap shavings and then adding food coloring – once crayons harden, they can be used! What a natural, hands-on, organic way for kids to make gifts for others.
Hopefully, there was at least one use for beeswax on this list you were unaware of and are inspired to try something this holiday season. Visit your local beekeeper; they can get you the materials you need to incorporate beeswax into your holidays this year. Contact D-Tek, a local beekeeper, for honey, beeswax, and other products.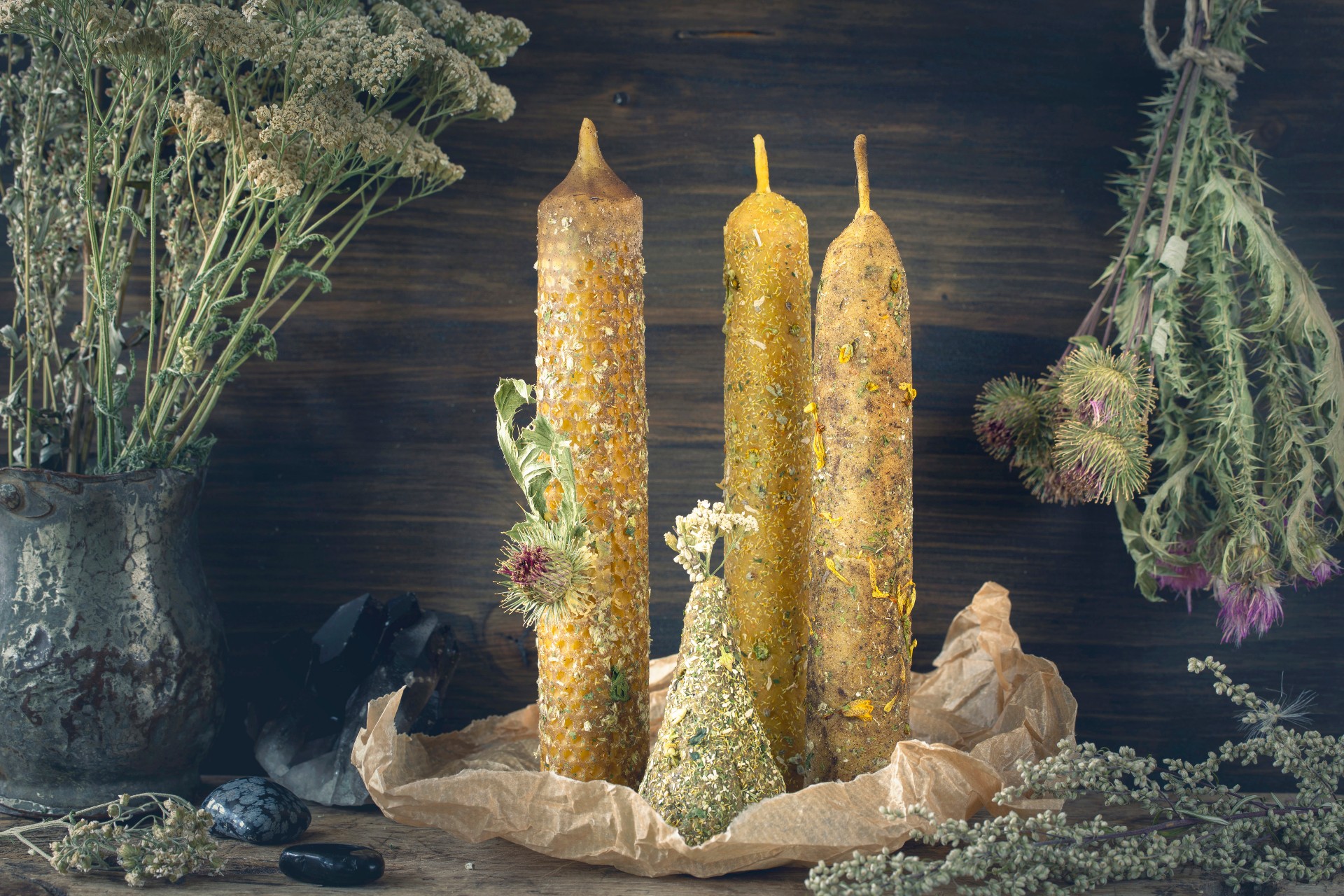 Get help with your beehive or bee swarm removal!
Call Today 760-224-3040 Or 951-265-8292!
How Beeswax is Collected and Used After Honey Harvest
After beekeepers complete the honey extraction process in their hives, the leftover beeswax is melted into blocks, which can be purchased from your local beekeeper. Beeswax is a natural substance, straight from the beehive, that can be used in your cooking, home décor beauty routine, and to make great gifts. It also makes creative gift ideas that are always a hit. Beeswax has a long shelf life, burns well, and has protection qualities used in skincare products.
If you want to purchase local honey, have questions about bees in your area, or need help with a bee concern, contact D-Tek for the most experienced beekeepers and technicians in Southern California. D-Tek is a beekeeper-owned company that has been in business for more than 17 years. D-Tek is dedicated to bee colony preservation and is the only full-service bee company serving Los Angeles, San Diego, Riverside, and Orange Counties.