Bee Removal San Marcos and Bee Control San Marcos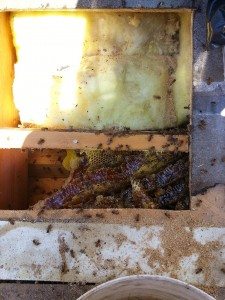 Do you live in San Marcos and have a bee problem you need taken care of by bee control professionals? Give D-Tek Live Bee Removal a call today for all your bee removal needs. We are a local live bee removal company based out of Vista. We specialize in the humane removal and relocation of honey bees. We use a vacuum system that is specially designed for live bee removal. After we have vacuumed up the bees we transfer them into a bee hive box and drop them off to a professional beekeeper in San Diego County.
All bee removal San Marcos services we perform at D-Tek Live Bee Removal include the following
Removal of all bee hive and honey comb
Live removal of all honey bees
Drop off of the honey bees to a local beekeeper in San Diego County
Needed bee removal repair work that may be needed to your home or business
Guarantee of the repair work
Bee proofing and bee control service
Guarantee the bees will not return
By choosing D-Tek Live Bee Removal you can be assured that the job will be done right the first time. We can't stress enough the importance of removing all of the bee hive and honey comb from the structure. If any bee hive is left behind during the bee removal process you will almost assuredly have a bee problem in the future. Honey bees have an excellent sense of smell. If any bee hive is left behind other bee swarms in the area will be attracted to it until it is fully removed. There are many bee removal companies that will come to your home or business and kill the honey bee colony with pesticides and leave the bee hive in the structure. Another risk associated with this tactic is that once there are no honey bees to tend the bee hive the honey will all melt out and can damage or ruin drywall, stucco, framing, electrical wiring, etc. It is more costly up front to have a proper bee removal performed but will save you time, money, and a head ache later on.
[tvideo type="youtube" clip_id="qwcpjLxkxKI" loop="false" rel="false" theme="light"]
Another critical aspect in the live bee removal process is the bee removal repair work. It is very common for honey bees to move into attics and walls. It is necessary to either cut into the roof, stucco, or drywall in these cases. D-Tek Live Bee Removal offers a guarantee on all bee removal repairs we perform. For roof and stucco they are guaranteed not to leak and be free from defect. For drywall repair we guarantee that the patch will blend seamlessly with surrounding area.
D-Tek Live Bee Removal is fully insured. We also offer free estimates and inspections. At the time of the free estimate and inspection we supply a copy of our insurance with the written quote to you.
Bee Control San Marcos
Included with every bee removal San Marcos service, is bee proofing the formerly infested area to insure that the honey bees can't reenter the structure and build another bee hive again. We bee proof in a 10 foot radius around the area of the original infestation.
D-Tek Live Bee Removal also offers a whole house bee proofing program. This is often referred to in the industry as bee control. We can seal up every vent, crack , crevice, etc. We guarantee all of outr bee proofing and bee control services.
Local San Diego Beekeeper
We have a couple of beekeepers that we drop our honey bees off to after we complete a bee removal and bee control service. For live bee removals in San Marcos we drop the honey bees off to a beekeeper in Encinitas. He uses them for pollination as well as scientific research. If the beekeeper in Encinitas is not available we drop the honey bees off to a beekeeper in Temecula wine country.
Call Bee Removal Experts Today 760-224-3040
If you want to get rid of your San Marcos bee problem  once and for all give D-Tek Live Bee Removal a call today. The owners direct line is 760-224-3040. Call any time day or night regarding your bee problem. If you don't feel like calling simply fill out the quick contact form on this website and we will get back to you ASAP regarding all your bee removal needs. We can usually get the bee removal service completed within 24 hours of initial contact. Call today!