Choose Wildflowers for a Bee-Friendly Garden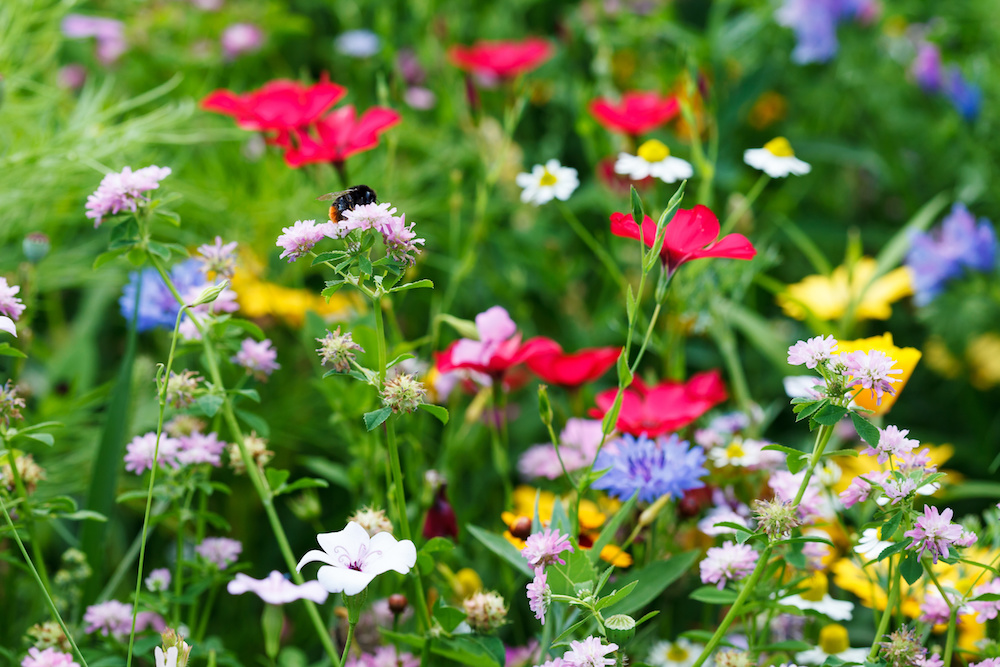 If you are a regular reader of our blog, then you may have read our last post about how you can help save honeybees. In that article, we share some practical ways that you can support honeybees as well as other pollinator populations. Here are just six ways you can do your part to help protect the honeybees from severe decline:
Avoid the use of toxic chemicals.
Maintain a bee-friendly lawn.
Create a bee-friendly garden.
Buy local honey and produce.
Educate others.
Opt for live, humane bee removal.
Planting Wildflowers to Attract Bees
While there are plenty of other things you can do to help bees, today we want to dig a little deeper into creating bee-friendly lawns and gardens. Specifically, we want to talk about wildflowers!
Not only are they beautiful to look at, but wildflowers provide ample sources of nectar and shelter for honeybees and other pollinators. As more and more people become concerned about the plight of our honeybee populations, we hope that they consider planting wildflowers and other native plants in their yards.
Although certainly not the only reason for honeybee declines in recent years, the trend toward clean, manicured yards has removed a valuable resource for honeybees, butterflies and other insects. And with continued development and less green spaces, there are even fewer spots for pollinators to do their work. Sure, you might not be able to plant many, but even a small area of wildflower and native plant growth can provide an oasis for bees and other pollinators.
Here are just a few reasons why wildflowers make a great addition to your garden:
Wildflowers attract!
When you plant a variety of wildflowers in your garden, you will find that a wide variety of creatures will come for a visit. Butterflies, bumblebees, caterpillars and others will begin to flock to your property to fuel up, find shelter and continue the pollination process.
Wildflowers can grow everywhere!
No matter where you live, you can find a wildflower or native plant that can grow successfully in your climate and soil. These days there are plenty of websites that can help you identify the best options for your location. A visit to your local garden store might be the best first stop.
Wildflowers are beautiful!
There is nothing lovelier than a meadow of native wildflowers growing untamed. The colors are vibrant and perfectly complement the natural landscape. Wouldn't that make a great addition to your property?
How to Choose Wildflowers for Your Garden
If you are ready to provide an enchanted garden of wildflowers for your local bees, you are probably wondering where to start. One thing to consider is that pollinators don't just need a food source in the summer months. To really do your part, try to choose flowers that will bloom throughout the year (or during as many months as possible.) Do your research to find which plants thrive in the spring, summer and fall months.
The next step is to choose which wildflowers to grow! This is fun, but can certainly become overwhelming. Below, we have included a list of wildflowers for honeybees and other pollinators based on the season.
Bramble (late spring, early summer)
Daisies (summer)
Dandelion (spring)
Clover (summer and fall)
Geranium (late spring through early fall)
Poppy (spring and summer)
Foxglove (spring and summer)
Bird's Foot Trefoil (summer and fall)
Thistles (summer and fall)
Ivy (fall and winter)
Tarweed
Evening Primrose
Gum Plant
Although not an extensive list by any means, this should offer a starting point when you begin to plan your bee-friendly wildflower garden.
Do Your Part – Protect and Save Honeybees
At D-Tek Live Bee Removal, we specialize in humane bee removal services. During our removal processes, we never use harmful pesticides or chemicals that can harm bees. After the removal is complete, we rehome the bees with a local apiarist who will provide a secure place for the bees to thrive. In this way, we can rid you of your bee problem while doing our part to protect the precious bee populations that are in decline.
Will you plant wildflowers in your garden? Which ones will you choose? We'd love to hear how you create a bee-friendly space for your local honeybees and other pollinators. Let us know in the comments below!