Why Should You Choose D-Tek Live Bee Removal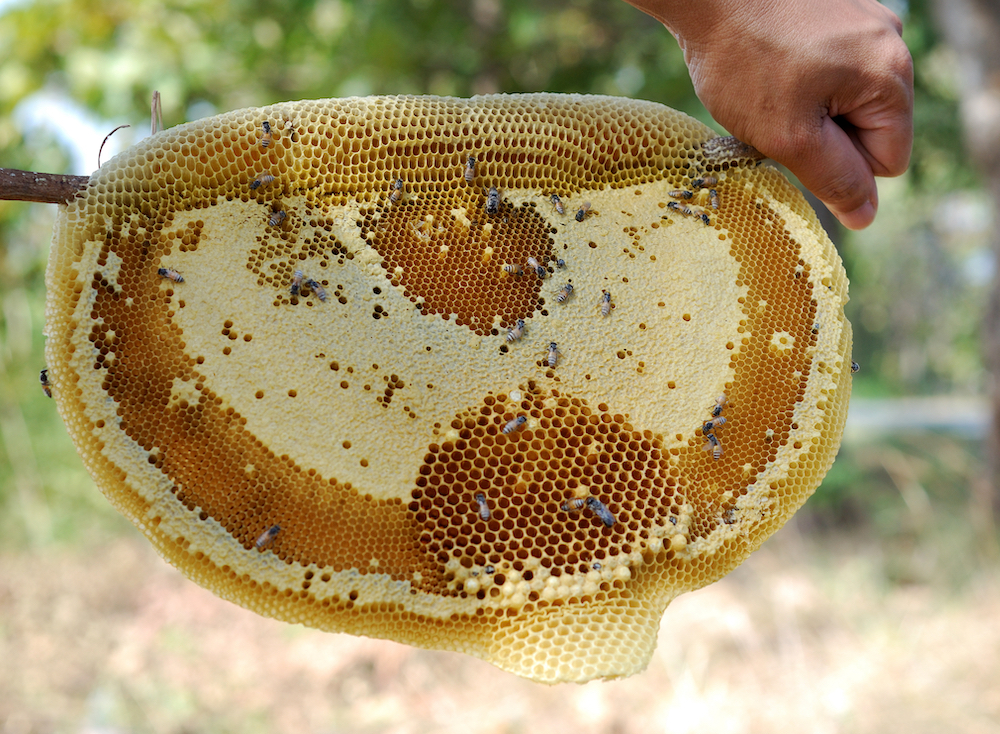 San Diego residents know that honey bees are to be protected. Colonies across the world are facing decline because of a variety of factors including climate, habitat destruction, disease, pesticides and other environmental considerations. Humans also account for some of this decline.
Naturally, many home and business owners become frustrated and fearful when they are faced with an enormous hive or swarm on their property. Their first instinct is to remove the problem; however, they often go about this in the wrong way. Spraying a hive or swarm with a hose, swatting at them with a broom or other similar means will rarely solve your problem. Instead, it will frequently aggravate bees and result in some nasty bee stings.
It is better to work with a live bee removal company to perform a removal service at your home or business. Life bee removal is different than your typical exterminator. At D-Tek Live Bee Removal, we use safe and humane techniques to protect bees throughout the process. We do not use harmful chemicals that can kill bees and have negative consequences for your family and pets.
If you have decided to work with a live bee removal company, we know this is not always an easy choice. There are many bee removal companies out there who purport to be the best in the business and that they treat bees with respect and care. As a consumer, it is important to know that not all bee removal companies use safe and humane practices.
At D-Tek Live Bee Removal, we lead the industry in San Diego live bee removal services. Customers return to us time and again and refer us to others because of the service we provide. If you are looking to hire a live bee removal company, find out why D-Tek is the right choice for you.
Safe and Humane San Diego Bee Removal
Honey bees can certainly be a nuisance. Large hives built into the structure of your home can cause severe damage to your property and put people at risk. Swarms that are located near the entrance of your home or business, or on a property such as a school, can be a hazard. This is especially important for those who are allergic to bee venom.
While bees can pose some problems, it is still in our best interest to protect honey bees. In addition to planting a bee friendly garden, you should choose live bee removal services over your typical exterminator. Exterminators will use harmful chemicals and inhumane processes to remove bees. In a live bee removal service, we use a vacuum system that will safely remove bees from the area and rehome them where they can thrive.
The Best Customer Service
D-Tek Live Bee Removal prides itself on its superior customer service and attention to detail. We know that customers have choices when it comes to bee removal in San Diego, and so we make sure we stand above the rest by providing impeccable customer service from start to finish. 
Our team of expert bee technicians will help you understand your situation and provide you with your options. With fair and transparent pricing and clear communication, you will always know what to expect when you work with D-Tek Live Bee Removal. Customers refer us to friends and family because of the quality of our services and the expertise our team. They trust us for all of their bee removal needs and know that we will be there when they need us.
Locally Owned and Operated
D-Tek Live Bee Removal is locally owned and operated. Our owner and technicians live in your neighborhoods and want to work hard to provide superior services for their neighbors. If you have an unwanted honey bee hive in the wall of your home, in your garage or shed, do not hesitate to contact the live bee removal experts at D-Tek Live Bee Removal.
For almost 20 years, we have been the trusted source for honey bee removal, re-homing, bee removal repairs and bee proofing in the San Diego area. Call our office today to schedule your inspection and to obtain your free quote.