5 Tips for Choosing the Right Bee Removal Company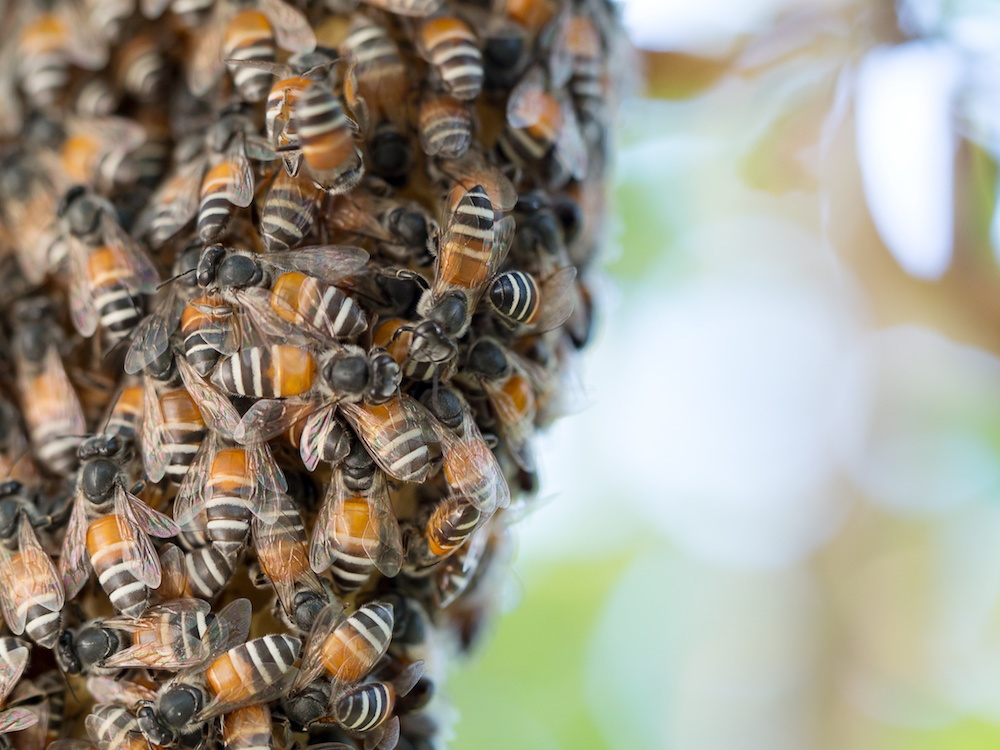 As one of the leaders in San Diego live bee removal, we know that it can be stressful and downright scary to find a honey bee swarm or hive on your property. At the first sign of an infestation, you have to make a decision about how to remove the hive and which company to choose. With a number of options out there, how do you choose the right bee removal company? 
When it comes to bee removal, we know that you want to make the right choice for your family, property or workplace. If you need to hire a bee removal company in San Diego, check out this reference guide to help you make the best choice for your situation. 
How to Choose the Right Bee Removal Company
Before committing to a bee removal company, it pays to do your research. A half-baked job can put people and property at risk. And when certain individuals have an allergy to bee venom, it can be much more than just a nuisance- it can be dangerous. Consider the following 5 tips when you start your search for the perfect honeybee removal services in your area. 
Get a basic understanding of bee removal processes.
Although you don't need to become an expert, it does help to have a basic understanding of common bee removal techniques. Not all bee removal companies are the same. Some use chemicals and pesticides that harm bees; while others use more humane methods of removal and relocation. 
Consider the pros and cons of both methods before contracting with a company. In every case, you will find that choosing a company that specializes in live bee removal is a better choice. They don't use pesticides that can kill bees in their process. Instead, they use a vacuum system that safely removes bees alive so they can be rehomed with a local beekeeper. 
Be prepared with the right questions.
Just as you would with any service provider, be prepared to ask the customer service representative the right questions. Not only will this give you peace of mind, but it gives you the opportunity to see if they know their stuff. From the initial phone call, you can often tell if the company operates a professional business and what your overall customer experience might be like. Some questions to consider include: 
How quickly can you arrive at my property?

 

How are your services priced?

 

How long does a removal take?

 

Do you offer free inspections and quotes?

 

How do you handle any bee damage to my home during the removal process?

 

How can you ensure that bees won't come back to the same location in the future?

 
Check credentials, licenses and insurance.
When a business is performing a dangerous and difficult service at your home like bee removal, it is critical that they have the proper credentials, insurance and licenses to do the work. Professional liability insurance will protect both parties in the event that injury or damage is done in the course of the removal. Due to the dangerous nature of the job, always check to make sure that the company carries sufficient insurance. 
Read reviews and testimonials.
One of the best ways to know if you can trust a bee removal company is to read their reviews. With the ease of online review sites, you can quickly read about the experiences of other customers from the comfort of your own home. Online customer review websites such as Angie's List and Yelp are two popular choices. The Better Business Bureau can also give you insight into the overall reputation of a business.  
Review their list of services.
Unlike some other home services, bee removal can require more than just a removal. Often, property owners require repair work and bee proofing services in order to have the job done completely. Bees can cause a great deal of damage to your structure. Accessing bee hives can be challenging, resulting in the need to remove pieces of drywall, stucco or roofing. 
After a bee removal service, many home and business owners want to know that bees won't return again anytime soon. Check to see if the bee removal company you choose offers bee proofing services with their removals. If not, you may be calling them again a month down the road. 
San Diego Live Bee Removal Services
D-Tek Live Bee Removal wants to be your trusted partner for all of your San Diego bee removal, bee repair and bee proofing needs. Give us a call today to get a free inspection and quote. As a locally owned and operated company, we take pride in our integrity, transparent pricing and superior service. Call us at 760-224-3040 today to get started!